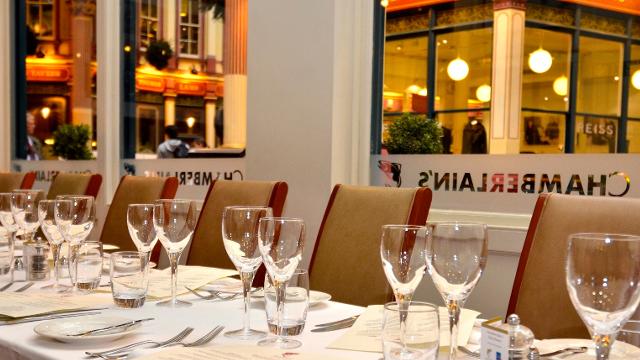 About
In the stunning surrounds of Leadenhall Market, Chamberlain's is a fish and seafood restaurant with seasonal produce delivered daily. With a sophisticated interior to match its impressive location, the restaurant's terrace allows guests to dine amidst the buzz of the world-famous market.
Venue Details & Map
Chamberlains Restaurant
Address

23-25 Leadenhall Market

London

EC3V 1LR
Yelp Reviews
Sunday 3 courses
Lovely to be in the center of La City but without the business pressured vibe.
The waiter was a bit condescendant, but maybe it was due to the fact we were here with a Wowcher... who knows?
Food was good, but maybe they try too hard on the presentation and the fact it is not perfectly accomplished ruins the effect a little bit.
The champagne sabayon of my main meal was not...more
Chamberlains is hands-down fantastic.
First off is the location - right in the heart of Leadenhall Market. Second is the food which is consistently high quality. I highly recommend the halibut with mashed potatoes and creamed spinach. Third is the service, which is attentive without being intrusive.
Slightly off-putting is the bill. This place is not cheap, but if you get a chance to go...more