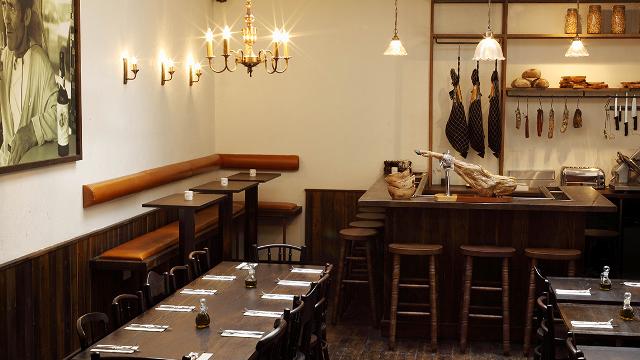 About
New traditional sherry tavern (typical of Jerez, Spain) in Fitzrovia - from the team behind Copita and Barrica.
The unique feature of a tabanco is that sherry wines are served straight from the barrel. In addition to serving a select range of fine and rare sherries from barrel, Drakes Tabanco also offers a choice of natural wines and artisan beer. To complete the experience, a Spanish-British menu is also served.
Towards the back of the tabanco is a dining area, where table service is offered for guests ordering from the full food menu. A specially prepared 'sherry matching' tasting menu is also available at a U-shaped bar which is available for groups to reserve.
Venue Details & Map
Drakes Tabanco
Address

3 Windmill Street
Fitzrovia

London

W1T 2HY
Yelp Reviews
This is definitely a place to come if you think you've rounded off all tapas places in London.
It's not cheap but not crazy expensive either, plus it's really a creative and original Spanish tapas cuisine.
As it is restaurant week, we went for the set menu created for the occasion and it was an absolute delish
My highlight was the scalop dish because it was so unusual yet so tasty.
Plus...more
AMAZING! Drake's is my new favorite London restaurant. The food was innovative and delicious. I don't even understand how they assembled such wonderful flavors, but this was a magical experience. The wine was excellent as well. We enjoyed a Tempranillo which nicely complemented, but did not surpass the food. I have never had cauliflower prepared with such perfection and the cous cous was...more