Cabaret Clubs in London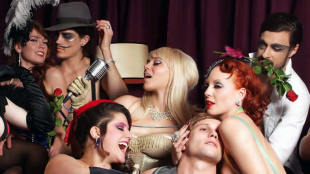 London's cabaret scene is big, bold, brassy and bawdy. It's time to get yourself glammed up and get out there! From gay bars to dedicated burlesque clubs, here is our pick of the top venues for cabaret and burlesque in London.
If you want to see the hottest acts on the cabaret circuit, don't miss our guide to the capital's current and upcoming cabaret shows.
Cabaret

1 Mark Lane, London, EC3R 7AH [map]

Proud Cabaret is a British restaurant, cabaret club and live music spot in the City run by the founders of the Proud Galleries.

Cabaret

From to

Southbank Centre SE1 8XX [map]

Laugh in the face of imminent cat-astrophe as our favourite feline makes a rapturous return to Southbank Centre with her purr-fect, provocative brand of deliciously non-traditional holiday cheer.

Cabaret

From to

Pleasance Theatre N7 9EF [map]

Alternative cabaret hosted by ukulele trio The Martini Encounter.

Cabaret

22 March 2015

Rose Theatre Kingston KT1 1HL [map]

Dillie Keane, Adele Anderson and Liza Pulman are a comedy-cabaret trio with three Olivier Award nominations, three national tours and over ten million YouTube hits for 'Cheap Flights' (their infamous anthem to budget travel).

Cabaret

From to

Clapham Grand SW11 1TT [map]

Male variety show.

Cabaret

11 January 2015

Brasserie Zedel W1F 7ED [map]

The actor and performer stars in the show featuring songs by Noel Coward and Cole Porter.

Cabaret

6 February 2015

Brookside Theatre RM1 3NH [map]

The three old-school divas perform original songs penned by Helen Goldwyn.

Cabaret

From to

BAC (Battersea Arts Centre) SW11 5TN [map]

Frankie Fox presents a playful and mesmeric exploration of music, voice and cultural identity.

Cabaret

From to

Cellar Door WC2E 7DN [map]

Cheeky humour from a variety of London's drag artists.

Cabaret

From to

Centre for the Magic Arts NW1 2HD [map]

Visit the House of 10,000 Secrets and enjoy a unique experience.

Cabaret

From to

Leicester Square Theatre WC2H 7BX [map]

A camp drag cabaret musical, written by Jonathan Brittain.

Cabaret

From to

Brasserie Zedel W1F 7ED [map]

An evening of all-original music and lyrics by her alter ego Mr Ty Jeffries.

Cabaret

31 December 2014

Brasserie Zedel W1F 7ED [map]

The ex-Vegas recovering showgirl performs two sets of original show songs at the piano.

Cabaret

31 December 2014

Icebar London W1B 4BN [map]

The opulent spirit of the Moulin Rouge descends on London's Icebar this New Year's Eve. Dine, drink and dance in deliciously decadent style. Feast your senses with a sumptuous five course meal, let…

Cabaret

From to

Royal Vauxhall Tavern SE11 5HY [map]

An adult pantomime telling the story of Jack Trotts and his quest for fame.

Cabaret

From to

Centre for the Magic Arts NW1 2HD [map]

A regular evening of mystery and wonder featuring some of the top magicians in "At Home with The Magic Circle". This event features history, close-up and stage entertainment and happens throughout the year and lasts for a full evening.

Cabaret

20 December 2014

Centre for the Magic Arts NW1 2HD [map]

A special festive treat to see amazing magic performed before your very eyes at the headquarters of the world-famous The Magic Circle

Cabaret

From to

Victoria Park E9 7DD [map]

For three weeks this Christmas London's new floating Waterhouse Theatre will be moored near Victoria Park to present the ultimate immersive Christmas experience in a humorous and surreal investigation into festive traditions.

Cabaret

From to

Proud Cabaret EC3R 7AH [map]

Proud Cabaret City welcomes you to the decadent world of 'Gatsby's Christmas Grotto'.

Cabaret

19 December 2014

Tea House Theatre SE11 5ER [map]

A decadent evening of Christmas themed dinner and entertainment!
You Might Also Like
Casino

Cranbourn Street, Leicester Square, WC2H 7JH [map]

The Hippodrome Casino reopens as the premier entertainment venue in London comprising of Heliot restaurant and lounge,5 bars, an intimate performance space and the very best in casino gaming.