Halal Restaurants in London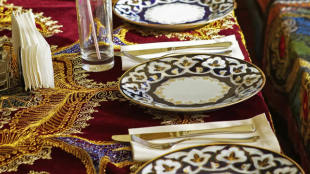 If you're looking for a halal restaurant, you'll be spoilt for choice in London. Many London restaurants serve halal food, and some offer a strictly halal menu.
All of the London restaurants below serve halal dishes; some also serve alcohol. You can also search for a halal restaurant in your area at www.zabihah.com.
Indian Restaurant

12A Berkeley Square House, Berkeley Square, W1J 6BS [map]

Situated in the heart of Mayfair, Benares is Atul Kochhar's Michelin-starred modern Indian restaurant.

Indian Restaurant

16 Albemarle Street, Mayfair, W1S 4HW [map]

Chor Bizarre encapsulates the spirit of the Chor Bazaar or "thieves market " and is dedicated to serving authentic Indian cuisine in a unique atmosphere straddling all regions of India, each dish is paired with two wines by Charles Metcalfe.

Indian Restaurant

535 Kings Road, Chelsea, SW10 0SZ [map]

Situated on Kings Road in Chelsea, this elegant restaurant pioneered contemporary Indian food in London 20 years ago.

Indian Restaurant

12 Upper St Martin's Lane, WC2N 4AN

Located in the landmark St Martin's Courtyard development, Dishoom is an unexpected and fresh take on café culture.

Lebanese Restaurant

76 Jason Court, Marylebone, W1U 2SJ [map]

Welcome to the glamorous world of Middle Eastern luxury. Our food is all about the art of sharing. It is one of the most diverse and exciting cuisines in the world. Deep colours, cushioned lounges, exotic cocktails and exquisite authentic food.

African Restaurant

Westfield, Shepherds Bush,

Enjoy steak that's a cut above the rest at London African restaurant The Meat & Wine Co.

Lebanese Restaurant

21 Edgware Rd, Paddington, W2 2HZ [map]

Maroush 1 is a must for all lovers of Lebanese cuisine.

Lebanese Restaurant

4 Vere Street, W1G 0DH [map]

One of a small, successful chain of upscale Lebanese restaurants and delis, Maroush Vere Street is situated on bustling Vere Street – handily between Oxford Street and Wigmore Street.

Malaysian Restaurant

175A Edgware Road, Paddington, W2 1ET [map]

Melur London Restaurant is a welcome escape from the hustle and bustle of Edgware Road in London, near Paddington station.

Indian Restaurant

64 Parkway, Primrose Hill, NW1 7AH [map]

Namaaste Kitchen is a theatrical restaurant with an open kitchen where diners can watch their meals being expertly prepared before their eyes.

Oriental Restaurant

93 Kentish Town Road, Primrose Hill, NW1 8NY [map]

Bintang serves a fusion of food from Malaysia, Indonesia, Korea, Taiwan and the Phillipines. The restaurant serves halal food and has a BYOB policy.

Bangladeshi Restaurant

46-48 Brick Lane, Shadwell, E1 6RF [map]

Brick Lane flagship restaurant Café Naz is a curry lover's dream, serving a choice of Bangladeshi and Indian dishes to eat in or take away.

Lebanese Restaurant

1 Connaught Street, Paddington, W2 2BH [map]

Featuring a Zen-like fish pond and a light-flooding sky-lit ceiling, Maroush Gardens offers Lebanese cuisine in an atmospheric setting.

Iranian Restaurant

44 Westbourne Grove, Paddington, W2 5SH [map]

The popularity of these restaurants with Middle Eastern locals is a good pointer to the quality of the Iranian cuisine at Alounak.

Caribbean Restaurant

85 Kentish Town Road, NW1 8NY [map]

Guanabana is a friendly family-run restaurant specialising in quality Caribbean and Latin cuisine.

Lebanese Restaurant

38-40 Beauchamp Place, South Kensington, SW3 1NU [map]

Maroush is a chain of upmarket Lebanese restaurants with authentic atmospheres that serve traditional dishes.

Indian Restaurant

83 - 89 Fieldgate Street, E1 1JU [map]

Started by Mohammad Tayyab more than 30 years ago, this family run restaurant in historic Whitechapel has grown in size and reputation over the years.

Chinese Restaurant

1453 London Road, Streatham, SW16 4AQ [map]

Wok s cooking is a halal Chinese restaurant.