Iranian Restaurants in London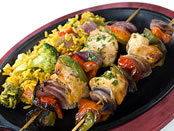 The influence of Iranian or Persian food can be seen in the cooking of many countries, from India to Morocco and across the Middle East. Yet with its extensive use of fresh fruit and vegetables, aromatic herbs, rice and small amounts of meat, Iraninan food still has its own unique style.
And thanks to its love of contrast dishes, whether sweet and sour or spicy and mild, you can be sure to find a dish to suit you.
Search for your nearest Iranian restaurant with our list of London's top Persian eateries.
Iranian Restaurant

5 Warwick Place, St. John's Wood, W9 2PX [map]

Thank you for choosing Kateh. We look forward to serving you.

Iranian Restaurant

351 West End Lane, West Hampstead, NW6 1LT [map]

Welcome to Hana Persian restaurant. A middle eastern restaurant situated in West Hampstead. Hana Persian restaurant firmly believe in giving their clientele a unique experience, an experience…

Iranian Restaurant

9 Kilburn High Road, Kilburn, NW6 5SD [map]

The Kilburn High Road is a hive of activity and is filled with bustling cafés, restaurants and bars in north London. Kish is a favourite with locals for its fresh Persian/Iranian food and cosy,…

Iranian Restaurant

38 Queensway, Paddington, W2 3RS [map]

The Little Persia restaurant is situated on the busy Queensway, close to Bayswater tube station, yet it really could not feel more exotic. Channelling the atmosphere of the Middle East, Little Persia…

Iranian Restaurant

70 Askew Road, Shepherd's Bush, W12 9BJ [map]

Sufi in Shepherd's Bush has the recipe. Forget Indian, Chinese and Thai this is classical Persian cuisine. Sufi offers relaxed dining in a friendly, stylish atmosphere, the Middle Eastern flavour of…

Iranian Restaurant

73 Haverstock Hill, Belsize Park, NW3 4SL [map]

Chalk Farm's Haverstock Hill provides plenty of choice for the casual London diner, however few of its restaurants are as strikingly different as Tandis. Occupying a site formerly held by a trendy…

Iranian Restaurant

44 Westbourne Grove, Paddington, W2 5SH [map]

The popularity of these restaurants with Middle Eastern locals is a good pointer to the quality of the Iranian cuisine at Alounak. All the dishes on the menu are Halal dishes and are very reasonably…

Iranian Restaurant

118 Ballards Lane, Finchley, N3 2DN [map]

Iranian Restaurant

6 Porchester Place, Paddington, W2 2BS [map]

Colbeh serves a variety of light meals a s well as a selection of sandwiches, snacks and beverages. They also have a seating area. A takeaway and delivery service is also available.

Iranian Restaurant

328 Kilburn High Road, Hampstead, NW6 2QN [map]

Iranian Restaurant

472 Chiswick High Road, Chiswick, W4 5TT [map]

Iranian Restaurant

27 Shepherd Market, Mayfair, W1J 7PR [map]

Iranian Restaurant

59 Edgware Road, Paddington, W2 2HZ [map]

Iranian Restaurant

458 Edgware Road, Paddington, W2 1EJ [map]

Kandoo serve a variety of Iranian dishes at their restaurant. They do serve some alcohol, but guests are also invited to bring their own beverages (corkage does not apply).