Mexican Restaurants in London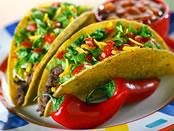 Known for its colour, delicious favours and variety of ingredients, Mexican food knows how to put the spice into life! 
The roots of Mexican cuisine lie in Spanish, Mayan and Aztec food traditions, which makes for a really exciting combination.
Rediscover a passion for crunchy tacos, sizzling fajitas and fresh guacamole at a Mexican restaurant near you. Not sure where to go? Then simply search through our listings below.
You Might Also Like
Mexican Restaurant

103 Hampstead Road, Euston, Camden, NW1 3EL [map]

Mestizo Mexican Restaurant & Tequila Bar has Mexican owners, chefs & staff. Relaxed and stylish serving authentic Mexican cuisine, situated only 5 minutes from Warren Street Tube station.