Mediterranean Restaurants in London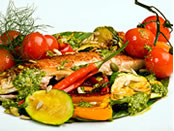 The Mediterranean Sea borders countries in Europe, Asia and Africa, which means the term 'Mediterranean cuisine' can be used to refer to many different food traditions. 
However, what all types of Mediterranean cuisine do share is a love of good, fresh ingredients, olive oil and grilled meats and fish. No wonder dieticians are always on about the great Mediterranean diet!
From olives and pitta to falafel and fresh fruits, there's plenty of variety to be found at London's Mediterranean restaurants, listed below.
You Might Also Like
Mediterranean Restaurant

The May Fair Hotel, Stratton Street, Mayfair, W1J 8LT [map]

At May Fair Kitchen, we are confident in our simplicity. No gimmicks, no pretence. Just exquisite food cooked and served to perfection.

Mediterranean Restaurant

Victoria Embankment, WC2N 5DJ [map]

Fully air-conditioned restaurant ship permanently moored beside Victoria Embankment at the foot of Northumberland Avenue close to Embankment Underground station, benefiting from superb river views.