Italian Restaurants in London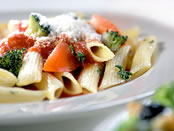 Italian food is renowned for its delicious dishes, from tempting antipasto starters to classic dishes like meatballs, pasta, risotto and pizza. Plus with desserts like tiramisu, gelato and panna cotta, you might want to take it easy over dinner!
Discover your own slice of Italy in one of London's diverse Italian restaurants. From budget to gourmet, you're bound to find just the 'little Italy' you're looking for.
You Might Also Like
Italian Restaurant

Westfield, The Loft, W12 7SL [map]

Spaghetti House at Westfield is located in The Loft, directly above the bustling communal dining area overlooking The Atrium and just below the cinema complex opening in late summer 2009. The…

Italian Restaurant

15 Goodge Street, W1T 2PQ [map]

The heart and soul of Italy comes alive at Spaghetti House Goodge Street, one of the very first Italian restaurants in London. Today it remains reassuringly fresh and simple with genuine…

Italian Restaurant

9 Kensington High Street, W8 5NP [map]

Located on bustling Kensington High Street, this restaurant is the perfect respite if you're out shopping, taking in the sights or just strolling through Kensington Gardens.