Greek Restaurants in London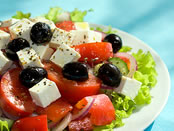 Enjoy all your favourite Greek dishes at a London restaurant near you. You'll find everything from meze-like bites of stuffed vine leaves, hummus and tzatziki to delicious dishes like moussaka, Greek salad and souvlaki.
Search for your nearest Greek restaurant or pick from one of our favourites using the handy list below.
Greek Restaurant

18 Kingly Court, 1st floor, W1B 5PW [map]

Savour traditional home-style Greek cooking at this Kingly Court eatery and delicatessen.

Greek Restaurant

8 Plender Street, Camden, NW1 0JT [map]

If you are new to Greek cuisine, then why not try Alexander The Great's "Mixed Meze" or "Vegetarian Meze" a traditional Cypriot feast consisting of over eighteen dishes served over several courses,…

Greek Restaurant

81-81A Bayham Street, Camden, NW1 0AG [map]

Andy's Taverna restaurant in a corner of London that could be reasonably nicknamed Little Greek Cyprus is a charming, casual dining spot with all the cheer of the Greek islands. The white-fronted…

Greek Restaurant

307 Harrow Road, Wembley, HA9 6BD [map]

Fully-licensed restaurant in Wembley with a range of traditional beverages such as Cyprus beer and Greek wine, as well as an extensive wine list from all over the world. Located in the heart of the…

Greek Restaurant

13 Percy Street, Fitzrovia, W1T 1DT [map]

The Elysée serves traditional Greek cuisine with a contemporary twist.

Greek Restaurant

28 Praed Street, Paddington, W2 1NH [map]

Fantasia Palace, a popular Greek restaurant based on 28 Praed Street in the Paddington area of London. We are often called a 'Jewel' of a restaurant and offer an enjoyable and authentic Greek…

Greek Restaurant

96 Cleveland Street, Marylebone, W1T 6NP [map]

Full of Greek charm, The Four Lanterns has been a favourite of central London restaurant-goers for many, many years. In fact, since 1970 this unpretentious slice of Greece – named after a famous…

Greek Restaurant

128-130 Heath Road, Strawberry Hill, Twickenham, TW1 4BN [map]

Our head chef visits and purchases all meats and poultry from Smithfield Meat Market, London. And we insist that all produce, that we serve is proven, with traceability, and is 100% British. It is…

Greek Restaurant

11-13 Bromley Road, Catford, SE6 2TS [map]

Opened in September 2009, the Mekân Café and Restaurant is a diverse new addition to the south east London dining scene. Located in Catford on the Bromley Road, this modern Turkish/Mediterranean…

Greek Restaurant

24 Lytton Road, Town Centre, Barnet, EN5 5BY [map]

The Village Greek is a traditional Greek and Cypriot restaurant in north London that specialises in clay-pot cooking. Located on Lytton Road in New Barnet, The Village Greek does everything it says…

Greek Restaurant

66 Inverness Mews, Bayswater, W2 3JQ [map]

Founded in 1966, Kalamaras is London's longest established Greek Restaurant. Warm Greek welcome and healthy Mediterranean food. Open Mon-Fri 17:00 - 24:00; Sat-Sun 12:30 - 24:00. Fully Licensed

Greek Restaurant

10 Paddington Street, Marylebone, W1U 5QL [map]

This two-storey Greek restaurant in Marylebone near Baker Street serves breakfast, lunch and dinner.

Greek Restaurant

56 Paddington Street, W1U 4HY [map]

Situated on Paddington Street, close to Madame Tussauds and the Hellenic Centre, The Real Greek Marylebone is perfectly located for escaping from the hectic shopping in Oxford Street and Bond Street.

Greek Restaurant

Montfichet Road, Stratford, E20 1EL [map]

Overlooking the magnificent Olympic Stadium, The Real Greek Westfield Stratford City serves sumptuous Mediterranean cuisine within the magnificent shopping centre development.

Blending retro…

Greek Restaurant

Riverside House, 2A Southwark Bridge Road, The Borough, SE1 9HA [map]

Ideally located next to the Globe Theatre and near to the Tate Modern, this popular restaurant serves fresh, authentic mezedes, souvlakis and sharing platters to its buzzing clientele on the banks of…

Greek Restaurant

6 Horner Square, Spitalfields Market, E1 6EW [map]

Situated in the heart of the renowned Old Spitalfields Market, voted Best London Market 2 years in a row, and just a stone's throw away from the buzzing City of London, this restaurant is one of a…

Greek Restaurant

Unit 1073, Southern Terrace, Westfield Shopping Centre, [map]

Situated in the vibrant and modern development of the Westfield Shopping Centre, this Real Greek restaurant certainly stands out from the crowd. The exterior presents a Greek island-style ambience,…

Greek Restaurant

134a Seven Sisters Road, Highbury, N7 7NS [map]

Apollo is a traditional Greek eaterie serving delicious authentic food in a relaxed and bustling atmosphere.

Greek Restaurant

222 Broadway, Bexleyheath, DA6 7AU [map]

Bexley's Cyprus Village serves authentic Cypriot and Mediterranean cuisine in a relaxed setting.