European Restaurants in London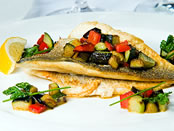 Europe is known for its culinary excellence; from the rustic pizzas of Italy to the fresh seafood of the Mediterranean. 
So why not head over to one of London's many European restaurants to enjoy a taste of modern and traditional dishes from across the continent.
Search for a European restaurant near you with the help of our comprehensive list below.
You Might Also Like
Mediterranean Restaurant

The May Fair Hotel, Stratton Street, Mayfair, W1J 8LT [map]

At May Fair Kitchen, we are confident in our simplicity. No gimmicks, no pretence. Just exquisite food cooked and served to perfection.

Modern European Restaurant

The Barbican, Level 1, Silk Street, EC2Y 8DS [map]

Visit our award-winning bar and dining space, with stunning views of the city skyline – the place to meet for a drink or meal before an event.

Belgian Restaurant

24 Cambridge Circus, WC2H 8AA [map]

London branch of one of Brussels' oldest restaurants.