Superstars need to eat just like the rest of us. To increase your chances of spotting a celebrity, book a table at one of these top London restaurants, where the rich and famous love to hang out.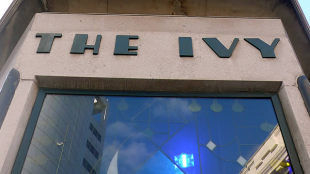 The Ivy
A classic celebrity haunt,
The Ivy
in Theatreland is the first restaurant to book (advisable) if you want to spot celebrities from the worlds of film, music and sport (David Beckham, Victoria Beckham,and Tom Cruise, for example). Not only does The Ivy serve traditional British dishes in cosy surroundings, but it does so with style.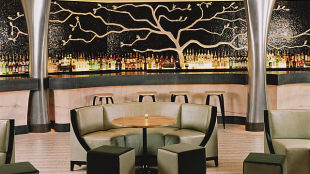 Nobu Berkeley
Sister restaurant to the famous
Nobu in Park Lane
, this Japanese fusion restaurant in Mayfair is a huge hit with stars such as Calvin Harris and Rita Ora. There aren't many Michelin star restaurants that have their own Japanese wood-burning oven and 12-seater sushi bar. The giant edamame beans and delicious chocolate bento boxes are a must.
Find Prices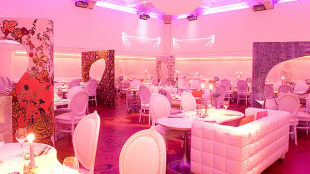 Sketch
With imaginative, modern-European food, no-expenses-spared decor and its own unique flair, Sketch restaurant and bar in Mayfair is able to tempt Hollywood A-listers such as Jessica Alba through its inconspicuous doors.
Sketch
contains three Michelin Star restaurants, but the Lecture Room is the place to eat if you're after wall-to-wall celebrities. Book well in advance.
Find Prices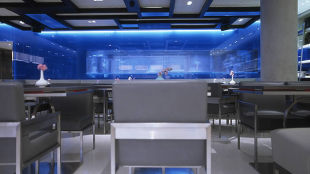 Yauatcha
The interior of this sexy dim sum teahouse in Soho is enchanting, where the "it crowd" dines on a menu of more than 84 amazing dishes. Be sure to sample the cocktails served from behind the fish tank bar. Michelin star Chinese quality, popular with big names such as Amanda Seyfried, Gwyneth Paltrow and Gwen Stefani.
Find Prices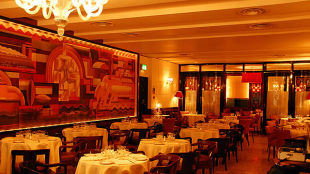 C London
Sister restaurant of world-famous Harry's Bar in Venice,
C London
in fashionable Mayfair is often surround by a gaggle of paparazzi, hopeful of snapping a picture of Mickey Rourke, Simon Cowell or Nicole Scherzinger as they leave after dinner. Sit back, relax and enjoy your comforting Italian dishes and delicious bellinis while star spotting to your heart's content.
Find Prices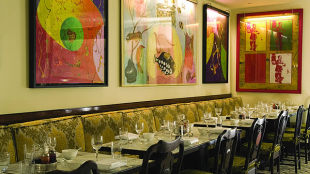 China Tang at The Dorchester
A little slice of Shanghai tucked away inside the
Dorchester Hotel
in Mayfair, this 1930s art deco restaurant is frequented by celebs, supermodels and business barons alike. British stars Hugh Grant, Stephen Fry and Kate Moss have all been spotted having a jolly good time here. Some say the restaurant serves the best Cantonese food outside China.
Find Prices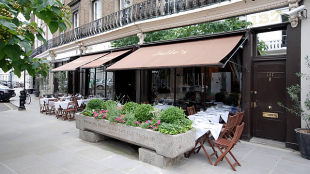 Julie's Restaurant
Having fed the rich and famous for more than 30 years, this quaint little West London restaurant is something of a celebrity institution. Rachel Stevens, Joseph Fiennes and Geri Halliwell have all been tempted by its bohemian decor, secretive alcoves and tasty modern European food.
Find Prices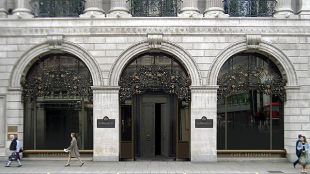 The Wolseley
Celeb-spot in style in a grand old café-restaurant on London's Piccadilly, where a spectacular Grade II Listed interior is matched by a sumptuous menu. Whether you go for a traditional afternoon tea or the famous Wolseley breakfast, you're likely to spot a famous face such as Sarah Ferguson or supermodel Lily Cole.
Find Prices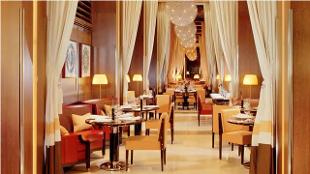 Cut at 45 Park Lane
One of the best steak restaurants in London, Wolfgang Puck's Cut at 45 Park Lane restaurant is a carnivore's paradise. The bill will be indicative of the exclusive Mayfair address, but the quality is just as apparent. Delicious enough to keep Brad Pitt and Angelina Jolie happy on their visit.
Find Prices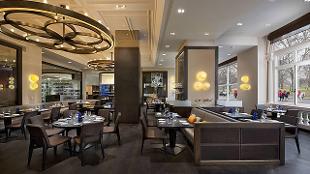 Dinner by Heston Blumenthal
A year after opening in 2011, this Knightsbridge restaurant was awarded a Michelin Star. Within another year, it was regarded as one of the world's top 10 restaurants. Heston Blumenthal's uniquely entertaining cuisine includes highlights like the meat fruit, and has welcomed stars including fellow celebrity chef Gordon Ramsay.
Find Prices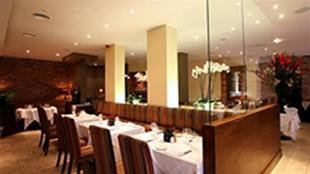 Zafferano
You shouldn't be surprised if your fellow diners at this Italian restaurant in Knightsbridge include the likes of Madonna and Al Pacino. Simply Tuscan food is rarely done this well. Booking absolutely necessary.
Find Prices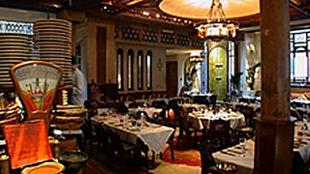 Momo
Hidden away down a side street, sandwiched between Savile Row and Regent Street, this North African restaurant, bar and cafe terrace has lured in such glitterati as Shakira and Stella McCartney with the promise of mezze, music and chilled out Marrakech vibes.
Find Prices