Draughts 
While away several hours at London's first board game café Draughts. It's the perfect place to find an old favourite or try something entirely new – the gaming temple is full of bookshelves stacked with more than 500 games, and the specially trained staff are all too happy to explain the rules. There's a £5 entry charge but no time limit; this is the place where new Monopoly rivalries are born daily. When you need sustenance there are a range of cakes, sandwiches, salads and charcuterie on offer, as well as draught beers chosen by the café's Kickstarter backers.   
Attendant 
Discover a unique coffee bar in a completely unexpected location: a Victorian-era gents' toilet. Attendant opened in January 2013, having turned the abandoned lavatory's porcelain urinals into tables and the old bathroom attendant's office into a cosy seating area. Now the lunchtime crowd packs into the small space for artisan coffee, sandwiches, soups and salads. Attendant's breakfast and brunch menu is pretty varied too; try the vanilla dipped French toast.  
Cereal Killer Café
Pick up a bowl of '90s nostalgia at Cereal Killer. The famous cereal-only café offers 120 international cereals that you can eat by the bowl, with 20 optional toppings and a whopping 30 different milks. Beyond the sugary fare itself, the café is decorated with cereal memorabilia, with TVs playing classic morning shows from the 1980s and '90s. If you're after a bit of childhood nostalgia and a craving for something sweet, Cereal Killer is a great quick hit.  
Drink Shop Do
Try something new at Drink Shop Do. A café by day and bar by night, the King's Cross hangout's calendar is packed with fun activities and workshops. One evening might see the bar turned into a temporary tattoo shop, while on the next night you might find a vintage hair and makeup parlour there instead. The café serves afternoon teas (weekends only), Sunday brunch, light bites and hot drinks, as well as cocktails and other bevies in the evening. Visit on a Friday or Saturday evening to dance the night away to DSD's old school tunes.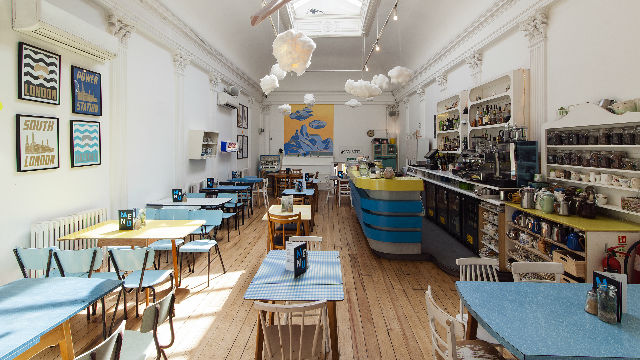 Lady Dinah's Cat Emporium 
Cuddle up with one of the nine rescue cats that call Lady Dinah's Cat Emporium home. The Bethnal Green tea house puts the welfare of its kitties at the top of its agenda, asking guests to largely leave them to their own devices. Still, you could find your cream tea interrupted by a fluffy guest climbing into your lap. Filled with faux-vintage furnishings and cutesy crockery, the cat-filled café serves high tea, cakes and light snacks.  
Sew Over It Clapham
Drop into Sew Over It in Clapham or Islington – adorable spaces where you can hire sewing machines for just £6 an hour (including a pot of tea). Can't sew if your life depended on it? Don't fret. Sew Over It also offers more than 35 classes, ranging from introductions to dressmaking to how to make the perfect 1960s coat, all served amid sewing paraphernalia with homemade cakes and tea.  
Ziferblat 
Pay for your time – and nothing else – at Shoreditch café Ziferblat. Describing itself as "a treehouse for adults," the Russian café charges you for how long you stay, but gives food and drink away for free. For three pence per minute you can chug a quick coffee, hold a lengthy meeting, or tinker on the piano to your heart's content. 
Biscuiteers 
Decorate your own bespoke biscuit at Biscuiteers. The boutique and icing café has an incredible range of tempting sweet treats on offer, but it's much more fun to make your own. Choose from a range of seasonal biscuits and then go mad with sugary toppings to create your own decadent masterpiece. If you want to learn more than the basics of icing – quickly explained by your knowledgeable waiter before you're allowed to touch the sugary stuff – the café also runs in-depth classes to help you become an icing whizz.   
Hurwendeki   
Chow down on delicious Korean food and get a haircut in one place at Hurwendeki. The rustic Korean café serves up freshly made coffee and pastries, while the adjoining restaurant offers fresh Korean classics such as bulgogi and stir-fried udon. Fancy finishing your lunch hour with a quick haircut? Step into the fully-functioning, 1950s-inspired salon for a 15-minute cut and dry (£13-14 for men, £18 and an extra four minutes for women).