Try Some British Classics
1. Piping hot chips and crispy battered fish at one of London's fish and chip shops.
2. Traditional afternoon tea at one of London's classy hotels.
3. Treat the man in your life to a gentlemen's afternoon tea.
4. Or spoil the kids with the Matilda The Musical Afternoon Tea at Scoff & Banter Covent Garden.
5. A slap-up Sunday roast at a traditional London pub before squeezing in a classic dessert such as spotted dick or jam roly poly.
6. Pie, mash and liquor at M.Manze, London's oldest pie and mash shop. Braver souls can try the jellied eels.
7. Take part in the nose-to-tail dining resurgence and try some tripe and offal at St John.
8. Get your fork into a sumptuous pork pie from fine food stockists Fortnum & Mason.
9. Bite into a posh Scotch egg from Scotchtails.
10. A hefty slice of Victoria Sponge from Bake a Boo.
11. Tuck into a very Scottish pairing of haggis and whisky at Boisdale, a lively Scottish restaurant in London.
12. Discover the curious beef cigars at The Shed.
Find more traditional British restaurants.
Treat Yourself to Something Sweet
13. Try some of the best doughnuts in London from St John Bakery. The bakery often mixes jams and other fillings to create interesting flavours such as rhubarb and custard or salted caramel custard.
14. Frozen berries with white chocolate at Le Caprice.
15. A slice of light and fluffy poppy seed cake at the Petersham Nurseries café.
16. Biskies from Cutter and Squidge – a one-of-a-kind fusion of biscuit/cookie/cake filled with lightened buttercream, handmade jam or award-winning caramel.
17. Visit La Creperie de Hampstead for some of the best crepes in the city.
18. Marks and Spencer's Percy Pigs. These sweets are a contemporary British classic.
19. Pop in to some of London's best chocolate shops.
Find more afternoon teas and cake shops.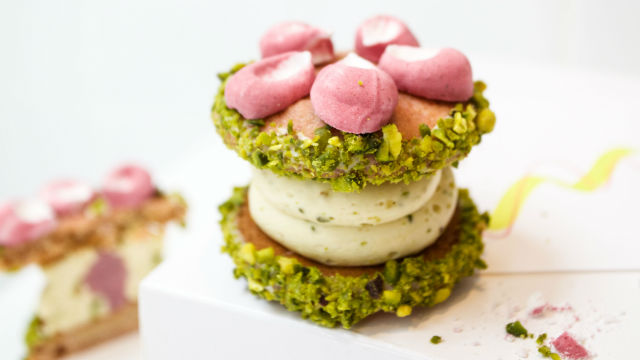 Cool Down With Ice Cream
20. Refreshing, zingy basil and chilli ice cream from the award-winning La Gelatieria.
21. Liquid Nitrogen ice cream at Chin Chin Labs in Camden.
22. Gelato from Gelateria 3BIS in Borough Market.
Find more ice cream shops.
Pick Up a Late Night Bite
23. A salt beef bagel at East End institution Brick Lane Beigel. It's open 24/7, and the bagels are under £5.
24. Anything on the menu at the glamorous Langham Hotel cocktail bar Artesian, which was named the world's best bar in 2015. Here, you can sample dishes such as Japanese Bloody Mary macarons.
Find more places to eat.
Taste Something Surprising
25. The Dinner by Heston Blumenthal Meat Fruit. A chicken liver mousse made to look like a textured mandarin orange.
26. The famous bread and dripping candle at Restaurant Story. Chef Tom Sellers wowed judges at the Young British Foodie Awards with this innovative and delicious dish.
27. Be surprised with the Mystery Menu at The Bingham in Richmond. Not for fussy eaters.
28. Try cacao cuisine that goes far beyond just chocolate at Rabot 1745.
29. Share dinner with real Londoners in their homes with VizEat.
Find more quirky eateries.
Sample The City's Best Meats
30. Spiral-cut steak with chimichurri sauce and fantastic views at Gaucho Tower Bridge.
31. Côte de boeuf at The Ten Room – straight from the charcoals and great for sharing.
32. Rabbit saddle with liver at Angelus. If you're on a date ask for the unique table in the kitchen for front row action.
33. The famous lamb chops from much-loved Whitechapel Punjabi restaurant Tayyabs.
34. Head to Hawksmoor for quality steaks and great cocktails. Try and squeeze in some of their famous salted caramel rolos.
35. The Rib Man's baby back pork ribs in a bun – available at West Ham home matches and KERB.
36. Light and tasty Indonesian beef short rib buns at Scott Hallworth's regular pop up, Joe's Oriental Diner - new location to be confirmed.
37. The melt-in-the-mouth jamón ibérico at Bar Tozino.
38. The roast duck salad with pomelo at Hakkasan Hanway Place. The perfect sweet and savoury combination.
39. Gold-painted chicken liver parfait with deep-fried quail's eggs and Cabernet-Sauvignon crème fraiche in Babylon at The Roof Gardens.
40. Weiner schnitzel with all the trimmings at elegant eatery The Delaunay.
41. Go for an impromptu visit to chicken chain Nando's. You could call it cheeky.
Find more delicious restaurants.
Try London's Best Burgers
42. Fuss-free but fantastic burgers from New York import Bleecker Street. No demi-brioche buns here!
43. The Boom Burger joint on Portobello Road for a taste of the Caribbean.
44. Visit The Admiral Codrington for a delicious burger, crispy triple cooked chips and a great pub setting.
45. The 'Adults Only' burger at the K West Hotel. It's served with Bloody Mary jelly, vodka ketchup and chips sprinkled with celery salt – a cocktail and a burger in one.
Find more burgers in London.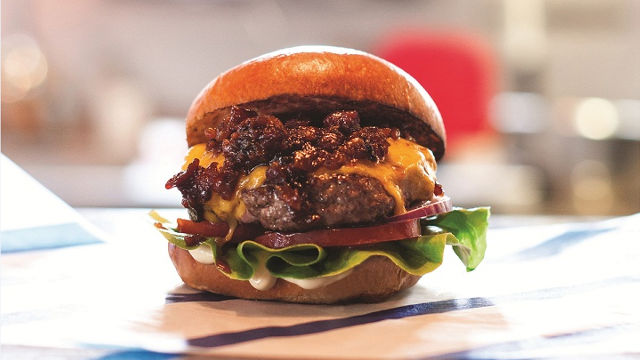 Taste Innovative Vegetarian Dishes
46. A courgette flower with goats cheese, pine nuts, leek, basil and sun dried tomatoes at The Gate in Islington. These guys know how to do veggie.
47. Try the deliciously indulgent portobello mushroom and truffle pizza at Pizza Pilgrims.
48. A plate piled high from the entirely vegetarian buffet at Tibits.
49. The Shroom burger for the perfect veggie alternative burger at Shake Shack.
50. A slice of cheesecake from the Wild Food Café.
51. A special dinner at the inventive Vanilla Black, including dishes such as goats cheese, fennel pollen and pistachio with apple puree.
52. The mushroom and ale pie at Mildred's.
Find more veggie delights.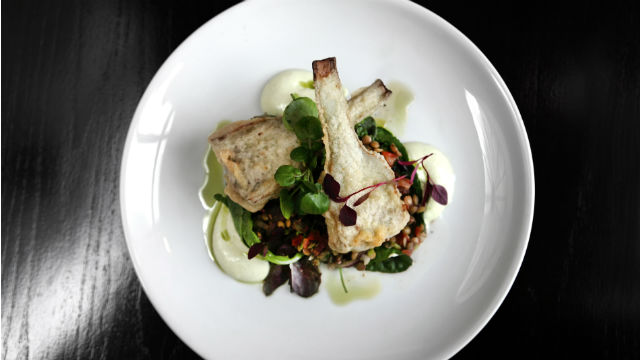 Discover a Taste of the East
53. Moreish Dan Dan Noodles with a Szechuan pepper zing at Bar Shu.
54. Two courses of wood-fired Beijing duck at Min Jiang.
55. Tasty dumplings at Mama Lan in Brixton Village.
56. Great value dim sum at Royal China.
57. Fresh, tasty and cheap bun noodles at Song Que on Kingsland Road, which is full of Vietnamese eateries.
58. A steaming bowl of ramen from Bone Daddies in Soho.
59. A light and fluffy pork bao from Taiwanese restaurant Bao. It's worth the wait!
60. Find a Mongolian restaurant in Chinatown such as Little Lamb Hot Pot and dip masses of meats and veggies in delicious broths.
61. Taste a few Korean sharing dishes and punchy cocktails at On The Bab.
Find more Asian restaurants.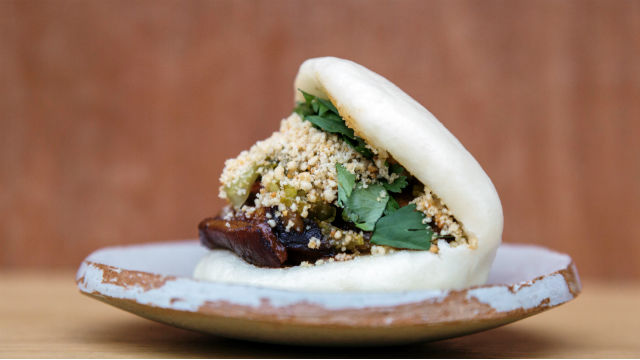 Sample Spicy Dishes from Brick Lane and Beyond
62. A curry followed by a mango lassi kulfi from one of the many Indian restaurants and stalls on Brick Lane.
63. Get your hands on some flavour-packed Indian street food off Oxford Street at Roti Chai. The Mutton Railway Curry is a winner.
64. Try the warming Anglo-Indian masala mash at the Cinnamon Club.
65. Tuck into Curry Goat Tsukumen at Nanban in Brixton.
Find more restaurants.
Find the Best Kebabs
66. Any number of brilliant Turkish restaurants on Green Lanes Harringay – try Gökyüzü's Full Platter if a few of you are up for a challenge.
67. If you're a bit further south, try a beyti kebab at Mangal 1 Ockbasi.
68. Have a tasty shwarma on Edgware Road with a fresh melon juice from Ranoush Juice.
Try Turkish, Lebanese and Iranian cuisine in London.

Sample World Cuisine
69. Freshly made ceviche at Michelin-starred Peruvian restaurant Lima.
70. A traditional layered shuba salad with salted herring, beetroot, apple, potatoes, mayonnaise and caviar at Mari Vanna. Russian food at its best in London.
71. Pizzas influenced by worldwide cuisines, from Mumbai to Madrid, at Fire & Stone.
72. Seared zebra, kangaroo fillet and African crocodile bites at Archipelago.
73. Mexican street food (including chicken tinga tacos) at Wahaca, which started out as a street food cart but now has several restaurants across London.
74. Great for the indecisive diner, Giraffe's menu includes dishes from several different countries.
75. Try a range of unusual meats (zebra, springbok, alligator and ostrich) with the King Shaka Game board at Shaka Zulu.
76. Try burgers with influences from around the world paired with regional drinks at Jamboree at Novotel London Blackfriars.
Find more restaurants in London.
Taste some Fresh Fish
77. The squid and mackerel burger at the Michelin-starred Arbutus.
78. Fresh shellfish such as cockles, whelks and oysters from West End hangout J Sheekey.
79. Scott's Seafood Platter for a great selection of shellfish – perfect for a special occasion or romantic dinner.
80. Pick from one of the many shrimp specials at Forrest-Gump-themed Bubba Gump Shrimp Co.
81. Try the various top-notch sushi options at Michelin-starred Roka.
Find more fish restaurants.
Make A Big Deal out of Your Meal
82. Taste your food in complete darkness at Dans Le Noir.
83. Feast like a king at a four-course Medieval Banquet with entertainment from Henry VIII and his knights, magicians and other historical figures.
84. Eat your way around East London with the East End Food Tour, stopping for everything from fish and chips to salted caramel tarts.
85. Book an immersive dining experience with the deliciously deceptive Gingerline secret supper club.
86. Discover a tantalising selection of world-class chefs and London's hottest restaurants at the Taste of London festival.
87. Watch London's best sites go by with a meal on the Thames with City Cruises or a Bateaux London Dinner Cruise.
Find more dining experiences.
Wake Up With Breakfast and Brunch
88. A delicious combination of haggis and duck egg at The Wolseley, or a traditional full English breakfast.
89. An open meatball melt sandwich at Swedish eatery Fika.
90. Head halfway up London's tallest skyscraper for weekend brunch at Aqua Shard.
91. Warm yourself up with a cup of chai tea at Dishoom and their signature bacon and egg naan roll.
92. Stuff yourself silly with huge pancake portions at The Breakfast Club.
Find more breakfast venues.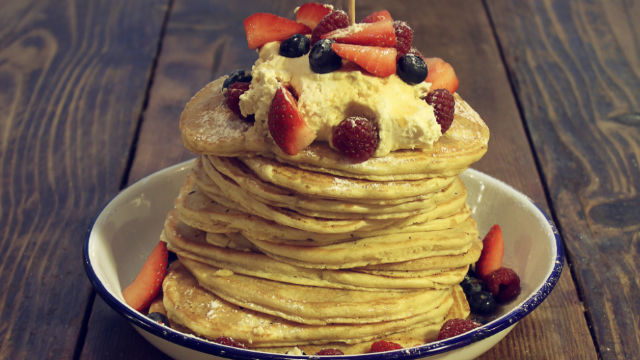 Visit London's Food Markets
93. Try all the free samples you can get your hands on at Borough Market.
94. Discover London's most exciting street food vendors at KERB.
95. Head to Brixton Market for an array of foods from around the world.
96. Enter a foodie playground at Maltby Street Market.
97. Check out a rotating cast of street food vendors at South Bank Centre Market.
98. Visit London's most popular open air market in Camden.
Find more London markets.
Find Something for the Whole Family
99. Music fans can chow down on a 122-oz New York Strip Steak at The Hard Rock Café.
100. Movie fanatics can try of Planet Hollywood's famous burgers.
101. Kids love the sparkling Volcano Cake at the Rainforest Café.
Find more family restaurants.