Take a guided tour of the Houses of Parliament and discover 1,000 years of British history.
Houses of Parliament Tour Tickets
Tours of Parliament take place on Saturdays throughout the year, and daily during the summer opening.
To book tickets for Houses of Parliament tours, simply click the green Book Now button.
Houses of Parliament Tours
Houses of Parliament tours offer an exclusive insight into UK politics and the building's 1,000-year history.
Hosted by professional Blue Badge Tourist Guides, the tours take you into the centre of the House, including areas such as:
Lords and Commons Chambers
Westminster Hall
Queen's Robing Room
Royal Gallery
Peers' Lobby
Central Lobby
Members' Lobby
St Stephen's Hall
Art and Architecture in Parliament Tours
The Houses of Parliament are home to some of the nation's greatest works of arts and architectural designs from the Victorian period up to the present day.
Two new Art and Architecture in Parliament guided tours are now available on specific dates: 
Royalty and Splendour in the House of Lords
Contemporary Portraiture in Portcullis House
During Summer 2012 you will also have the chance to view Arts in Parliament, a programme of free events bringing a broad mix of cultural exhibitions and activities into the Houses of Parliament. For full details of what's on during your visit, and to book free tickets, visit the website.
About the Houses of Parliament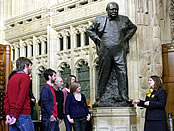 Also known as the Palace of Westminster, the Houses of Parliament were once the official residence of the English Royal family.
The oldest part of the building, Westminster Hall, was completed in 1097 and has played an important part in British history ever since.
The majority of the original palace was destroyed by fire in 1834. The current building, designed by Sir Charles Barry, was completed in 1870.