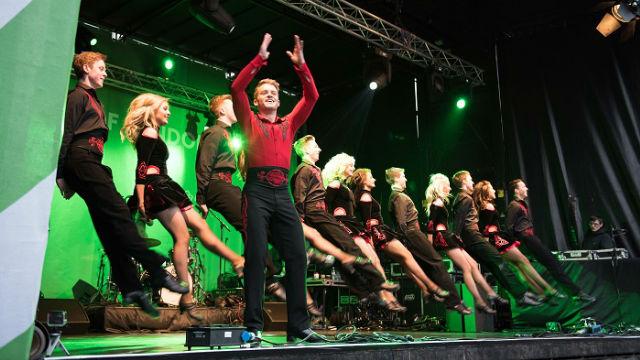 About
Join in the lively Irish celebrations with St Patrick's Day events and activities in London.
Every 17 March, Ireland celebrates one of its patron saints, St Patrick, with a national holiday and a traditional feast. While it is not a public holiday in England, London marks St Patrick's Day with fun and spectacular events every year, usually on the weekend closest to 17 March.
In 2017, the official three-day celebration in London begins on 17 March, and culminates in the annual St Patrick's Day Parade in Central London and Trafalgar Square Festival on 19 March.
St Patrick's Day Parade in London
Be amazed by flamboyant pageantry, elaborate floats, marching bands from across the UK, sports clubs and Irish dancing schools in the annual London St Patrick's Day Parade. The procession makes its way down Piccadilly from 12pm, on a 1.5-mile (2.4km) route, passing some of London's most iconic landmarks, including The Ritz, Piccadilly Circus, Trafalgar Square and onto Whitehall. 19 Mar
St Patrick's Day Festival in Trafalgar Square
Watch St Patrick's Day performances by West End stars, Irish acts and community choirs, plus a huge céilí on the Trafalgar Square stage, hosted by Irish stand-up comedian Jarlath Regan. Then tuck into traditional and modern Irish food from the market, and enjoy special family activities for free. Find out more about the Trafalgar Square St Patrick's Day Festival. 19 Mar
More St Patrick's Day Celebrations and Activities in London
•Celebrate St Paddy's Day with parties and Guinness in London's Irish pubs and bars, decorated in green for the occasion.
•Join a free Irish walking tour to learn about London's Irish connections, from rebellions to revelries. 17-19 Mar
•Enjoy Irish music and poetry on the Underground, at Victoria, Waterloo, Tottenham Court Road and Covent Garden Tube stations. 17 Mar
•Solve clues and meet Irish characters on a family treasure trail in Central London. 19 Mar
•Explore the true story behind St Patrick and pick a side, with an immersive banquet and dance experience at Hackney Round Chapel. 17 Mar
•Hear live music from the likes of Irish folk band Kila and join in family activities at Camden Market. 18 Mar
•Catch an Irish film screening, from short films to thrillers and comedy. 17-19 Mar
•Discover the father and son art exhibition, featuring the works of Irish artists John B. Vallely and Lorcan Vallely in City Hall. 13-31 Mar
•Snap a picture of the Coca-Cola London Eye lit up in green for the night. 17 Mar
Venue Details & Map