Join in the lively Irish celebrations with St Patrick's Day events and activities in London.
Every 17 March, Ireland celebrates one of its patron saints, St Patrick, with a national holiday and a traditional feast. While St Patrick's Day is not a public holiday in the rest of the UK, London hosts fun and spectacular events every year to mark the day, usually on the weekend closest to 17 March.
In 2017, the official three-day celebration in London begins on 17 March, and culminates in the annual St Patrick's Day Parade in Central London and Trafalgar Square Festival on 19 March.
St Patrick's Day Parade in London
Be amazed by flamboyant pageantry, elaborate floats, marching bands from across the UK, sports clubs and Irish dancing schools in the annual London St Patrick's Day Parade. The procession makes its way down Piccadilly from 12pm, on a 1.5-mile (2.4km) route, passing some of London's most iconic landmarks, including The Ritz, Piccadilly Circus, Trafalgar Square and onto Whitehall. 19 Mar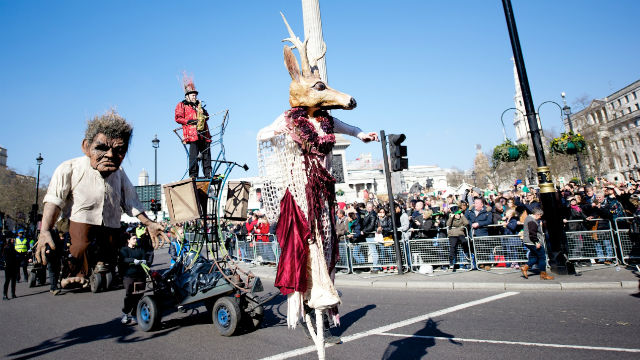 St Patrick's Day Festival in Trafalgar Square
Watch St Patrick's Day performances by West End stars, Irish acts and community choirs, plus a huge céilí on the Trafalgar Square stage, hosted by Irish stand-up comedian Jarlath Regan. Then tuck into traditional and modern Irish food from the market, and enjoy special family activities for free. 19 Mar
More St Patrick's Day Celebrations and Activities in London