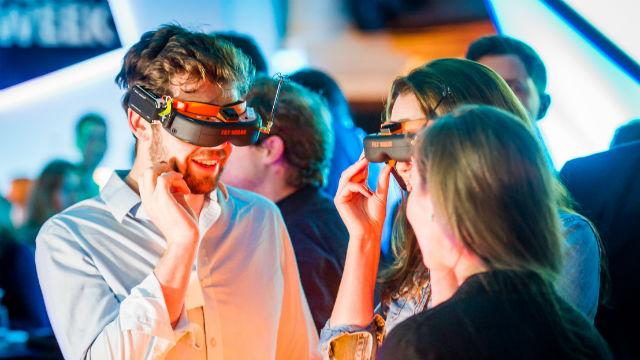 Discover the best of tech at this festival filled with talks, concerts, film screenings and learning opportunities.
Read More
About
Find out what makes the capital a global tech hub at London Tech Week, a mega-festival showcasing the latest innovations across the sector.
Bringing together the best creative and scientific minds, this is a fantastic opportunity to learn more about technology while having fun, from learning to code with the kids, to watching drones race and listening to Hollywood film tunes.
London Tech Week Highlights
•Watch the DRL Drone Racing League Season Finale in iconic Alexandra Palace. The race will feature eight of the top drone pilots from around the globe competing for the title of "World's Greatest" on a one-of-a-kind course through the entire building. 13 Jun
•Don't miss the free screening of multi award-winning film Avatar in The Scoop as part of London Bridge City Summer Festival. 13 Jun
•Hear classic film tunes straight out of Hollywood at the SSE Arena Wembley as Hans Zimmer, the most successful film composer of our era comes to London. 15 Jun
•Assemble a crack team and put your tech knowledge to the test with The Big Tech Pub Quiz at O'Neill's Wardour Street. You'll also find plenty of free food and drink throughout the proceedings. 14 Jun
•Bring your little ones along to Can You Code Like a 3-Year-Old? at Old Truman Brewery and learn tech skills together in an afternoon of fun programming challenges using Cubetta, an award-winning coding toy. 15-16 Jun
•Witness music and technology come head-to-head as tech artists, innovators and entrepreneurs battle with their best ideas to win The Belt of Music Tech Glory at The Tech Off: Soundclash 2017! at Cargo in Shoreditch. 14 Jun
Visit the London Tech Week website to find the full programme of events.