The Battle of the Somme Centenary Events in London
Until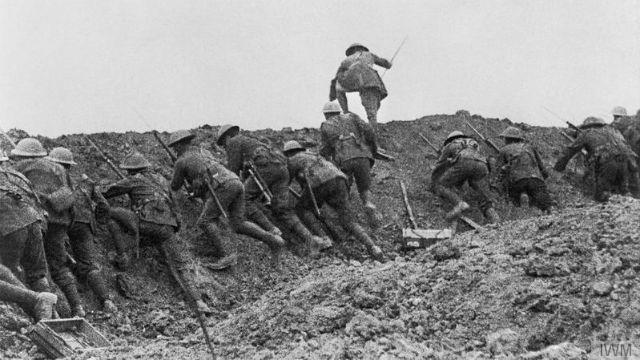 About
Mark the centenary of the Battle of the Somme and learn more about the momentous battle with events across London.
Most commemorative events in the capital begin or take place between 29 June and 1 July, marking 100 years since the first day of the five-months-long battle which began on 1 July 1916.
IWM London Late: The Night Before the Somme at IWM London
30 June
Visit the Imperial War Museum London on the eve of the battle's 100th anniversary for a free after-hours event. Hear first-hand accounts of the First World War through talks, live music and interactive theatre, watch the 1916 documentary film The Battle of the Somme, explore the First World War galleries after dark and enjoy free access to the Real to Reel: A Century of War Movies exhibition for one night only.
Battle of the Somme Vigil at Westminster Abbey
30 June
Remember the thousands who lost their lives in the battle and those affected back home with an overnight vigil at Westminster Abbey. Representatives from all sides of the battle will keep 15-minute watches and the abbey will be open to the public through the night from 8.45pm until 7.15am on 1 July.
Welsh National Opera's In Parenthesis at the Royal Opera House
29 June and 1 July
British composer Iain Bell adapts David Jones's epic poem, In Parenthesis, into a poignant opera presented by the Welsh National Opera. Follow the story of Private John Ball and his comrades posted to the Somme in this London premiere of the production at the Royal Opera House.
Fields of Battle, Lands of Peace: Somme 100 at Guildhall Yard
1 June to 3 July
Compare images of the First World War battlefields with present-day photographs of the same landscapes in this free outdoor photography exhibition at Guildhall Yard. On display are photographs by Michael St Maur Sheil which capture nature's healing powers as the wounds of war are turned into beautiful scenery.
Real to Reel: A Century of War Movies at IWM London
1 July to 8 January
Marking 100 years since The Battle of the Somme film release, this Imperial War Museum London exhibition explores the way in which the theme of war has fascinated audiences over the last century. Rediscover the real-life stories that have inspired film makers, go behind the scenes of the making of war films and explore how these movies have changed our perceptions of warfare.
Wounded: Conflict, Casualties and Care at the Science Museum
29 June to January 2018
Discover the innovations in medical techniques and technologies which came about as a result of the huge number of casualties following the Battle of the Somme and other First World War events. See historic objects from the Science Museum's collection, from medical equipment to protective items, and learn about the present-day treatment of soldiers in this free exhibition.