RideLondon, the world's greatest festival of cycling, returns with seven events to enjoy over three days in July.
RideLondon GrandPrix
Friday 28 July - free to watch
Watch exciting races and competitions at the Prudential RideLondon Grand Prix at Queen Elizabeth Olympic Park.
In the afternoon you can see the Prudential RideLondon Handcycle Grand Prix, an event for injured veteran servicemen and women; before following the Prudential RideLondon Youths Grand Prix, showcasing Britain's next generation of top cyclists during four races for boys and girls.
In the evening, you can cheer on competitors at the Prudential RideLondon Elite Handcycle Grand Prix featuring some of the world's best handcyclists.
RideLondon FreeCycle
Saturday 29 July - free to participate  
RideLondon FreeCycle offers a great opportunity for people of all ages to experience the fun and freedom of cycling on traffic-free roads in Central London.
The route features many of the capital's world-famous landmarks including the chance to cycle past Buckingham Palace, Trafalgar Square and St Paul's Cathedral. In addition, there are seven festival sites offering cycling-themed activities.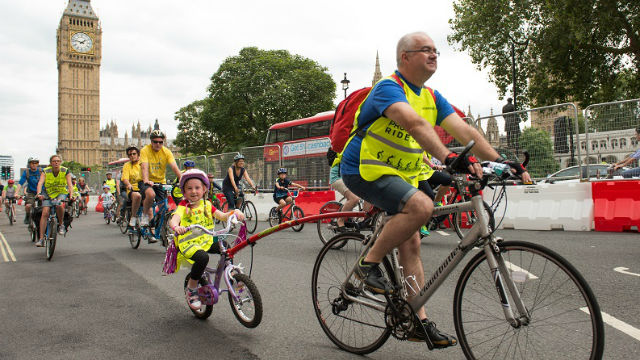 RideLondon Classique
Saturday 29 July - free to watch                
Watch the best elite women cyclists compete on a Central London circuit as part of the Women's UCI WorldTour.
Having attracted big names in previous years, such as reigning World and Olympic Champion Marianne Vos plus four-time Olympic and five-time World Track Champion Laura Trott, the RideLondon Classique is a thrilling race not to be missed.
Brompton World Championship
Saturday 29 July - free to watch
The Brompton World Championship return for a third year with around 500 cyclists racing on a Central London circuit taking in The Mall, Buckingham Palace and St James's Park. Don't miss this hilarious event.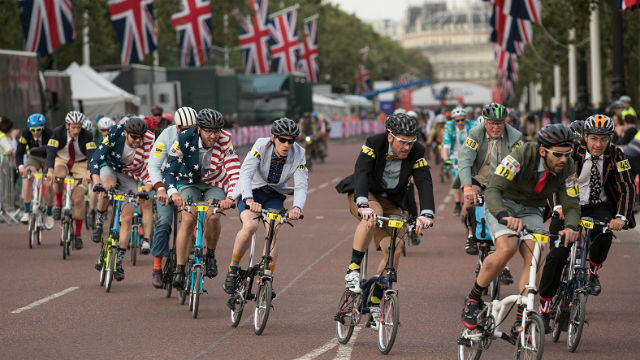 RideLondon-Surrey 100
Sunday 30 July - free to watch 
Celebrating the legacy for cycling created by the London 2012 Olympic and Paralympic Games, the RideLondon-Surrey 100 is a challenge for amateur cyclists.
It starts in Queen Elizabeth Olympic Park, then follows a 100-mile (160km) route on traffic-free roads through the capital and into Surrey's stunning countryside. With leg-testing climbs and a route made famous by the world's best cyclists at the London 2012 Olympics, the challenge finishes in style on The Mall in front of Buckingham Palace.
The event takes place before 150 professional cyclists race in the RideLondon-Surrey Classic on a similar route.
The ballot is now closed but charity places may still be available.
Ride London-Surrey 46
Sunday 30 July - free to watch
Returning for its second year, RideLondon-Surrey 46 takes place on traffic-free roads, starting at Queen Elizabeth Olympic Park straight after the start of the Prudential RideLondon-Surrey 100, and finishing on The Mall in front of Buckingham Palace.
This event has been created specifically for newer and younger cyclists to take part and to enjoy the freedom and camaraderie of Prudential RideLondon. Entry is by public ballot only, which is now closed for this year's event.
RideLondon – Surrey Classic
Sunday 30 July - free to watch

Discover the drama of professional racing as 150 of the world's top cyclists from 25 teams take on the 124-mile (200km) route through Central London to the Surrey Hills and back, with a sprint finish on The Mall in front of Buckingham Palace. The Prudential RideLondon-Surrey Classic has UCI World status this year.