Watch modern and classic movies under the starry summer skies with Film4 Summer Screen open-air film festival at Somerset House.
The stunning Edmond J. Safra Fountain Court provides the setting to London's largest screen set against Somerset House, which itself has provided the backdrop to many movies.
Choose from a mixed programme of UK premieres, old favourites and Cannes award-winning films in full surround sound. Before the movies start, enjoy DJ sets inspired by the films, special guest introductions on selected nights, and plenty of food and drink options; or you can even bring your own picnic.
The 2017 festival opens with the UK premiere of Al Gore's An Inconvenient Sequel: Truth to Power; see Al Gore himself take to the stage to introduce his documentary and participate in a Q&A session. And join the cast and director of Patti Cake$ as the film makes its UK premiere on the closing night of the festival.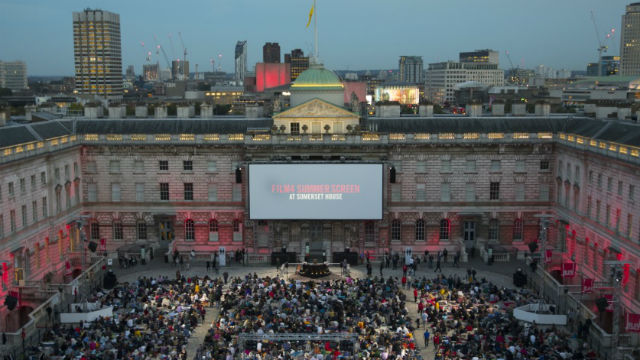 Film4 Summer Screen 2017 Programme
10 August: An Inconvenient Sequel: Truth to Power
11 August: Victoria
12 August: Donnie Darko and The Omen (double bill)
13 August: The Philadelphia Story
14 August: Moonlight
15 August: All the President's Men
16 August: The Square
17 August: Bhaji on the Beach
18 August: In Bruges
19 August: Jaws and Deliverance (double bill)
20 August: My Neighbour Totoro
21 August: Cruel Intentions
22 August: Blow-up
23 August: Patti Cake$