Greenwich + Docklands International Festival
Until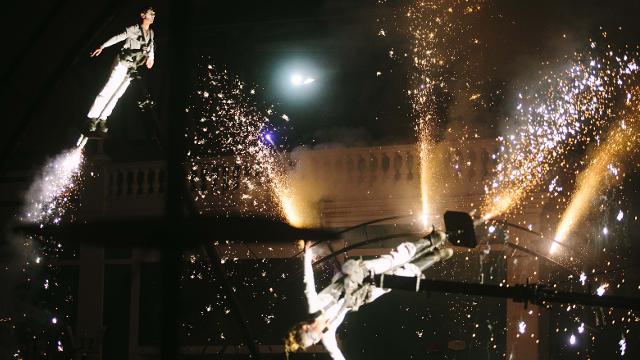 About
Head down to East and South East London for the Greenwich+Docklands International Festival (GDIF), running as part of the Royal Greenwich Festivals.
Discover an extensive programme of art installations, street theatre, cabaret, dance acts and music events in various parts of the Greenwich and Docklands areas, including six world premieres, five UK premieres and 12 London premieres.
Greenwich+Docklands International Festival 2016 Programme Highlights
* The House at the National Maritime Museum (24 Jun). See how video projections, contemporary hip hop dance, pyrotechnics, music and narration combine in the extraordinary opening event of the GDIF, celebrating the 400th anniversary of The Queen's House.
* Greenwich Fair at the Greenwich Town Centre (25-26 Jun). Street art of various forms, from circus and cabaret to street games, live art, theatre and dance, take over the Greenwich town centre which is turned into a traffic-free zone for two days only. Be part of the celebrations with mass participation events such as the Audition Project or Hokey Cokey.
* The People Build at the Queen Elizabeth Olympic Park (21-25 Jun). Join in the creation of the Olympicopolis buildings, crafted from hundreds of cardboard boxes. Over the course of several days, you can help construct this new cultural district and see spectacular new buildings rise from the ground in this unusual architectural event.
* Silence at the Bethnal Green Gardens (30 Jun-1 Jul). See the world premiere of the new play by Polish company Teatr Biuro Podróży, a story of refugees and migrants, dreaming of escaping war. This topical theme is brought to life on stage with physical theatre, puppetry, fire and music, and is sure to spark conversation.
* Moat Island at Well Hall Pleasaunce (27 Jun-1 Jul). Take the kids to a place full of adventure with art workshops, games, puppetry and dance. This after-school programme is suitable for all children under the age of 12.
* Dancing City at Canary Wharf (1-2 Jul). Explore dance in its many forms across the parks and piazzas of Canary Wharf. Enjoy outdoor music, dance and theatre performances by award-winning and extraordinary dance companies from around the world.
* Ignite! at the Royal Arsenal and Woolwich Town Centre (2 Jul). Be amazed by this exciting street arts programme, inspired by the manufacturing and industrial past of the Woolwich area. Musicians and dancers interact with machinery and technology, creating a unique theatre experience.
* The Clash of Drums at the Royal Artillery Barracks (2 Jul). Don't miss the festival finale, as the French company Les Commandos Percu and the Spanish theatre group Deabru Beltzak battle against each other with percussion and fireworks.
For more information, visit the festival website.