Vegetarian Restaurants in London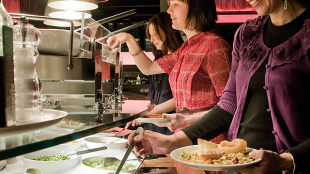 From superfood feasts to a raw-food revolution, you could never accuse the vegetarian food scene in London of being boring. 
With every imaginable option available – be it bargain lunch or haute cuisine – it's not only vegetarians who make the most of London's many meat-free restaurants. 
If you thought vegetarian food was just lentils and quorn, think again – and book yourself into one of the great veggie restaurants listed below.
You Might Also Like
Café

250 Camden High Street, Camden Lock, NW1 8QS [map]

Natural, optimum nutrition, vegetarian & vegan cuisine with an emphasis on superfoods, gluten-free and raw foods. Smoothies, juices, organic cocktails and mocktails. Alfresco, water-side dining