Lebanese Restaurants in London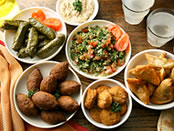 With its huge variety of vegetable dishes, fresh fish and salad, not to mention a love of olive oil, it's no wonder Lebanese cuisine is regarded as so healthy. 
If you're not sure where to start, why not go for the famous Lebanese meze? This tempting selection of appetisers such as olives, grilled meat, vegetables and much more is a great opportunity to sample lots of different dishes.
Find a Lebanese restaurant near you or go for one of our favourites simply by searching through the listings below.
Lebanese Restaurant

76 Jason Court, Marylebone, W1U 2SJ [map]

Welcome to the glamorous world of Middle Eastern luxury. Our food is all about the art of sharing. It is one of the most diverse and exciting cuisines in the world. Deep colours, cushioned lounges, exotic cocktails and exquisite authentic food.

Lebanese Restaurant

43a Commercial Street, E1 6BD [map]

Adiva offers a delicious blend of Turkish and Lebanese cuisine, with the emphasis placed on fresh produce and aromatic herbs and spices.

Lebanese Restaurant

51-52 Hertford Street, Mayfair, W1J 7ST [map]

Just off Shepherd's Market, Al Sultan is a small, beautifully run Lebanese that has attracted couples and families for absolute yonks.

Lebanese Restaurant

29 Craven Road, Paddington, W2 3BX [map]

Assaha is simultaneously twee & enchanting, & very carefully promoted by a Lebanese parent company with a social conscience.

Lebanese Restaurant

65 Fernhead Road, St. John's Wood, W9 3EY [map]

Traditional Lebanese cookery meets modern London style at Maida Vale's The Cedar Lebanese Restaurant.

Lebanese Restaurant

80 Victoria Road, Ruislip Manor, Ruislip, HA4 0AL [map]

Ruislip Manor locals looking for a meal close to home are probably already familiar with The Cedar Tree on Victoria Road.

Lebanese Restaurant

3 Blandford Street, Mayfair, W1U 3DA [map]

Fairuz restaurant in London's Marylebone is named in tribute to Lebanon's most famous chanteuse and cultural icon - a sweet, unguarded idea that, if copied, could lead to Bob Dylan the chippie or Cliff Richard the burger bar.

Lebanese Restaurant

8-9 William Street, Knightsbridge, SW1X 9HL [map]

First opened in 1998, Ishbilia is one of Knightsbridge's most enduring middle-Eastern restaurants, earning its reputation in producing the finest and most authentic Lebanese cuisine available in London.

Lebanese Restaurant

58 Greek Street, Soho, W1D 3DY [map]

This wonderfully atmospheric restaurant offers a true taste of Lebanon in deepest Soho, a place where you can sink into luxurious embroidered cushions and relax with mezze and an arak in the shisha room, or lift your mood with masses of dishes, bottles of terrific Lebanese wine, and the thrill of the belly dancer.

Lebanese Restaurant

110 High Street, Esher, KT10 9QJ [map]

Layla restaurant fashions Eastern spice and European sophistication into a gem of contemporary dining.

Lebanese Restaurant

335 Fulham Road, Earl's Court, SW10 9TW [map]

Mandaloun is a group of family run Lebanese restaurants where casual dining meets great food in stylish surroundings with oustanding service.

Lebanese Restaurant

21 Edgware Rd, Paddington, W2 2HZ [map]

Maroush 1 is a must for all lovers of Lebanese cuisine.

Lebanese Restaurant

4 Vere Street, W1G 0DH [map]

One of a small, successful chain of upscale Lebanese restaurants and delis, Maroush V is situated on bustling Vere Street – handily between Oxford Street and Wigmore Street.

Lebanese Restaurant

47 Parkway, Primrose Hill, NW1 7PN [map]

Mezza Express & Grill restaurant in London's Camden is another hit from the owners of La Cigale next door.

Lebanese Restaurant

92 Queensway, Paddington, W2 3RR [map]

Phoenicia is a Lebanese restaurant.

Lebanese Restaurant

23 Kensington Church Street, W8 4LF [map]

Lebanese and Mediterranean cuisine is presented in an elegant setting at Randa, along with a delicious array of succulent mixed grills.

Lebanese Restaurant

7 Jerdan Place, Fulham, SW6 1BE [map]

Welcome to a unique dining experience at RODIZIO LEBANON, the first authentic Lebanese Rodizio outside of São Paolo.

Lebanese Restaurant

221 Kensington High Street, Kensington, W8 6SG [map]

Lebanese Restaurant

29 Uxbridge Road, W12 8LH [map]

Abu Zaad serve a variety of Lebanese and vegetarian dishes at their restaurant.