Eastern European Restaurants in London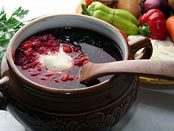 Cuisine in Eastern Europe is a melting pot of delicious, hearty food that's full of tradition, history and warmth. 
Tasty meat stews, piping hot pancakes and rustic salads are just some of the many dishes you might find in an Eastern European restaurant. Not to mention all the mouthwatering desserts; like flaky strudel, cheesecake and fresh fruits.
You'll find cuisine from across the region in London's many Eastern European restaurants. Search through our list to find something that catches your eye – and makes your mouth water!
Eastern European

74 Blackfriars Road, London, SE1 8HA [map]

Baltic Restaurant and Bar, is housed in an eighteenth century former coach builder's works and although redesigned, the original character is beautifully retained.

Eastern European

129 High Street, Brent Park, NW10 4TR [map]

Eastern European

99 Longbridge Road, Barking, IG11 8TB [map]

Eastern European

627 Lea Bridge Road, Leyton, E10 6AJ [map]

Restoranas Smilte is a Ukranian restaurant that offers many traditional dishes.