Malaysian Restaurants in London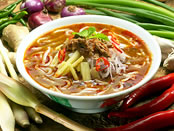 With such a diverse, multi-ethnic population, it's no surprise that the cuisine of Malaysia has numerous influences and flavours. 
In Malaysian cuisine, you'll find everything from Traditional Malay dishes like the coconut-infused Nasi Lemak to Nyonya food, a fusion of tastes from Malaysia and Singapore. Not to mention influences from Indian and Chinese cuisine.
Love Malaysian food or want to try it for the first time? Simply browse through our listings of Malaysian restaurants in London.
Malaysian Restaurant

52 Westbourne Grove, Paddington, W2 5SH [map]

C&R Restaurant, not to be confused with the more laid-back Soho version (C&R Cafe Restaurant), is definitely more of a dinner spot, and a good one at that, situated in the fairly culinarily sparse Westbourne Grove.

Malaysian Restaurant

91 Old Brompton Road, South Kensington, SW7 2LD [map]

Feel the heat of the Moroccan desert at Couscous Darna -- the fire of the people, the warmth of the hues and the passion in the cooking.

Malaysian Restaurant

175A Edgware Road, Paddington, W2 1ET [map]

Melur London Restaurant is a welcome escape from the hustle and bustle of Edgware Road in London, near Paddington station.

Malaysian Restaurant

36 Southwick Street, Paddington, W2 1JQ [map]

Pak Awie serves the very finest traditional Malaysian dishes in a welcoming and relaxed ambience.

Malaysian Restaurant

13 Sale Place, W2 1PX [map]

Satay House, London's most established Malaysian restaurant effortlessly combines traditional recipes and family-run affability with modern culinary techniques and sleek contemporary design.

Malaysian Restaurant

50 Berners Street, London, W1T 3NG [map]

Suka is a modern Malaysian restaurant set within the stylish Sanderson.

Malaysian Restaurant

190 Sussex Garden, W2 1TU [map]

Malaysian Restaurant

785-787 London Road, Thornton Heath, CR7 6AW [map]

Bunga Raya serve traditional Chinese cuisine accompanied by an extensive wine list with beers and spirits also available.

Malaysian Restaurant

7 Porchester Gardens, Bayswater, W2 4DB [map]

Cous Cous Cafe serve a variety of Moroccan and vegetarian dishes and can cater for private parties of up to 32 guests upon request.

Malaysian Restaurant

430 Alexandra Avenue, South Harrow, Harrow, HA2 9TW [map]

Eastern Fire is a restaurant serving Malaysian cuisine.

Malaysian Restaurant

Liverpool Street, The City, EC2M 7PN [map]

Ekachai serve a wide selection of traditional Malaysian and Thai dishes.

Malaysian Restaurant

754 Sidcup Road, New Eltham, SE9 3NS [map]

Malaysian Restaurant

2 Sarnesfield Road, Enfield Town, Enfield, EN2 6AS [map]

Malaysian Restaurant

37 Leinster Gardens, Paddington, W2 3AN [map]

Situated inside the Pavilion Holiday Villa Hotel, Lagenda serve a wide selection of halal Malaysian and Chinese dishes as well as a range of exotic drinks including cocktails.