Chinese Restaurants in London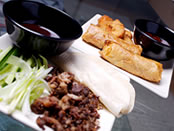 We all have one particular dish that we can't resist ordering time and time again from a Chinese restaurant, whether it's a deliciously spicy noodle soup or just some crunchy prawn sesame toast.
But with the huge variety of recipes and ingredients found in Chinese cuisine, make sure you don't miss out the many specialties that have been brought to London from regions right across China.
While London's Chinatown near Soho is a good place to start, there are plenty more Chinese restaurants to be found across London. Just have a browse through our listings below.
You Might Also Like
Oriental Restaurant

23 Entertainment Avenue, The O2, Greenwich, SE10 0DY [map]

Water Margin is a global buffet restaurant, consisting of a buffet restaurant upstairs and restaurant downstairs that serves a selection of set menus, catering for casual and intimate dining.