Moroccan Restaurants in London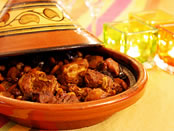 Find a taste for tagine, a craving for couscous and a love of lamb at a Moroccan restaurant near you. 
From traditional-style eateries with cosy, low seating to modern fine dining, there's a great variety of Moroccan restaurants to be found in London. 
Search through our list below to find our recommendations, plus much more.
Moroccan Restaurant

136 Brompton Road, Knightsbridge, SW3 1HY [map]

A stylish contemporary restaurant and bar in Knightsbridge

Moroccan Restaurant

58 James Street, Mayfair, W1U 1HG [map]

In the bustling heart of the city, Ayoush London is perfect for lunch, dinner, or stopping for a drink anytime.

Moroccan Restaurant

375 King Street, Hammersmith, W6 9NJ [map]

Azou is an inviting restaurant on Chiswick's busy King Street, winner of Ramsay's Best Restaurant, North African category, & awarded a Michelin Bib Gourmand.

Moroccan Restaurant

320 Old Street, The City, EC1V 9DR [map]

Hungry for Africa? Craving an exotic culinary experience? Bogayo restaurant in the City of London on Old Street is waiting to fulfil your desires.

Moroccan Restaurant

45 Frith Street, Soho, W1D 4SD

Take a step from the bustling heart of Soho and walk in to our hidden oasis, El Cantara.

Moroccan Restaurant

23-24 Greek Street, Soho, W1D 4DZ [map]

Transport yourself from the hectic city lifestyle to the tranquillity and serenity that is Maison Touareg.

Moroccan Restaurant

Curzon Street, W1J 7TX [map]

Bursting with Arabian charm, the eagerly anticipated original Mamounia Lounge venue transforms the heart of iconic Mayfair into a Middle Eastern world of exotic cocktails, fresh and authentic Lebanese and Moroccan dishes and Middle Eastern live entertainment.

Moroccan Restaurant

39 Hereford Road, Bayswater, W2 4AB [map]

MOROCCAN SAHARA is a family run restaurant serving classical Moroccan cuisine with 30 years of experience our main objective is the maximum satisfaction for all our customers.

Moroccan Restaurant

7A Dorset Street, Marylebone, W1U 6QN [map]

Centrally located in London's West End, Original Tagines is a Moroccan restaurant with an intimate atmosphere and wholly authentic food.

Moroccan Restaurant

1-3 Fernlea Road, Balham, SW12 9RT [map]

Welcome to Zizou Tagine Restaurant.

Moroccan Restaurant

403 High Street, Stratford, E15 4QZ [map]

With extravagant arabesque doors, Dar Marrakech serves stunning Moroccan and Lebanese cuisine.

Moroccan Restaurant

350 Old York Road, London, SW18 1SW [map]

Doukan is a neighbourhood restaurant by day offering breakfast, weekend brunch, a fine deli selection and excellent value express lunch menu.

Moroccan Restaurant

92 Seven Sisters Road, Holloway, N7 6AE [map]

Moroccan Restaurant

303 Green Lanes, Palmers Green, N13 4XS [map]

Moroccan Restaurant

172 Seven Sisters Road, Islington, N7 7PX [map]

Le Rif is a Moroccan cafe and restaurant.

Moroccan Restaurant

352 North End Road, Fulham, SW6 1NB [map]

Moroccan Restaurant

25 Heddon Street, London, W1B 4BH [map]

Consisting of a luxurious restaurant, bar, café and shady outdoor terrace, Momo is an exotic Moroccan haven on London's Heddon Street.