Jon Favreau (Iron Man, Friends) has written and directed Chef, the story of an acclaimed chef who loses his job and sets up a food truck in Miami. It's a feel good story with lashings of delicious food on show, and Favreau has assembled a stellar cast, including Robert Downey Jr, Dustin Hoffman and Scarlett Johansson to come along for the ride. Chef is out in UK cinemas now.

To celebrate the film release we have picked seven of London's best, from burgers to burritos, and everything in between.
Bleecker Street Burger
As the name suggests, Bleecker Street Burger is straight from NYC. Handmade patties are griddled and topped with that trademark American cheese and secret sauce. No frills, just great, delicious burgers. The matte black van can be found all over the capital, often stopping in Dalston, Canary Wharf and the South Bank. @bleeckerburger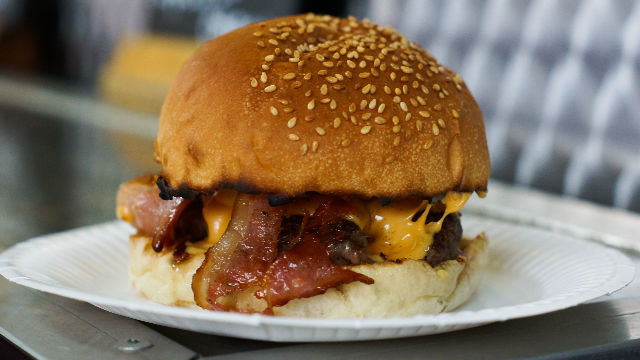 Well Kneaded
Yes they do amazing pizzas (or firebreads, as they like to call them) but the two Wandsworth natives responsible for Well Kneaded also have a social conscience. The truck is staffed by local Wandsworth kids in what has become their own, delicious, take on a youth scheme. The pizzas and calzone are straightforward, as all good pizza should be, with a charred sourdough crust and fresh, seasonal toppings. Find them in their local South London spot on Northcote Road in Clapham or roaming around with the KERB collective. @WellKneadedFood
Anna Mae's Mac N Cheese
Anna Mae's serves up that childhood favourite/guilty pleasure mac 'n' cheese. Every batch is made from scratch in giant cast iron skillets and loaded with awesome toppings like crispy bacon, chillies or homemade BBQ sauce. The gold GMC Vandura Burt Reynolds has been converted from a 1980s day-van that you can find at festivals, events and food markets around the city and the UK. @anna_maes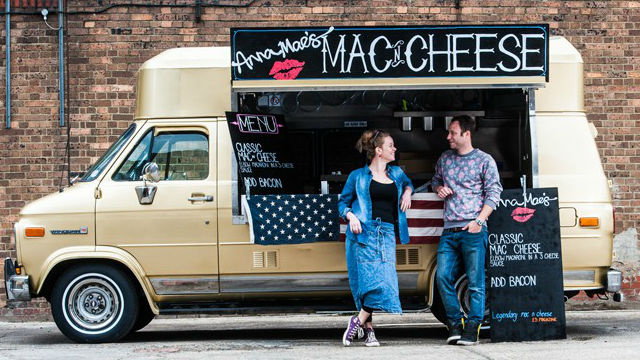 Capish?
Rachel Jones serves up Sopranos style Italian-American street food at Capish? Trading with the KERB and Street Feast collectives she can be found throughout the summer serving up sloppy joes and meatball subs Joey Tribbiani would be proud to eat. @capishfood
Rainbo
Xochi and Ben set up Rainbo to serve homemade gyoza dumplings and fresh, crunchy Asian salads from a converted 948 Ford pickup. They still have roots going back to their volunteering days too, with 20p from every meal going towards their Food for Freedom initiative, which helps rescue and rehabilitate child labourers in Western Nepal. @rainbofood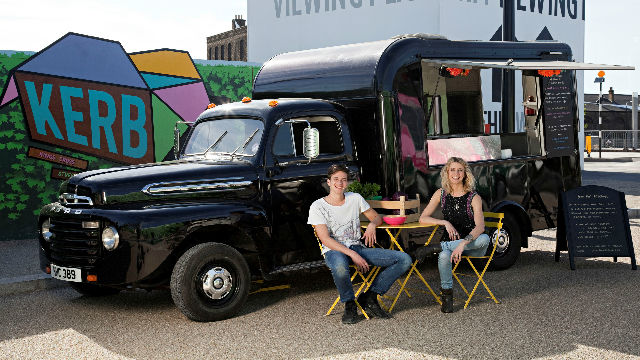 You Doughnut
For something sweet, the brilliantly named You Doughnut serves up little doughy balls of heaven, laced with toppings and fillings ranging from their signature salted caramel to white chocolate, vanilla and cardamom, or good old maple syrup. They can be found at KERB, trading at Kings Cross, Maida Vale, UCLU markets and special events. @you_doughnut
Wahaca Street Kitchen
Ex-Masterchef winner Thomasina Miers is building a Mexican street food empire. At Wahaca everything is ethically sourced so you can tuck in with a clear conscience by sharing tacos, stuffed burritos and quesadillas, washed down with fresh hibiscus water or a delicious tequila cocktail. They currently have two roaming street kitchens, one on the South Bank and the other near Canary Wharf. @wahaca