Live Music Bars in London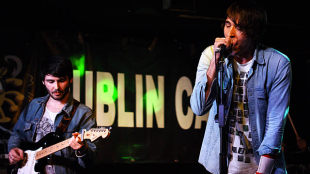 From the Rolling Stones to Oasis, many famous bands performed in London pubs and bars before they hit the big time.
Aspiring musicians continue to flock to London, and you can often see them play for just a few pounds (or even for free) at these live music bars.
Bowling

The O2 Arena, Peninsula Square, SE10 0DX [map]

This 800-capacity concert venue features 12 lanes of bowling and food supplied by the famed Bromberg Bros. Blue Ribbon Restaurants.

Gig Venue

100 Oxford Street, Soho, W1D 1LL [map]

The 100 Club has legendary status in modern British music, having played host to live bands since 1942.

Gig Venue

49 Chalk Farm Road, NW1 8AN [map]

After helping to launch the careers of Coldplay, Blur, Oasis, Franz Ferdinand and The Darkness, Barfly became renowned as a venue for rock, alternative and indie music. Barfly's policy of nurturing new music continues to this day, so it's a good place to spot the stars of tomorrow.

Pub

111 - 113 Camden High Street, Camden, NW1 7JN [map]

The Blues Kitchen is London's very own home of blues and rock'n roll music. Serving authentic American soul food and over 40 different Bourbons, expect to hear live blues music most nights.

Pub

134 Curtain Road, Shoreditch, EC2A 3AR [map]

This Texan eatery and bar offers live music and one of the largest selections of bourbon in London.

Modern European Restaurant

100 Wardour Street, W1F 0TN [map]

Floridita encompasses the best in Cuban music, cocktails, cigars, food, design and hospitality. Downstairs in the original Mezzo building, a gleaming ten metre bar and varied seating areas create a…

Gig Venue

93 Lower Richmond Road, Putney, SW15 1EU [map]

A vintage London pub, The Half Moon serves traditional British dishes to a backdrop of trendy, live music. On the bank of the Thames at Putney Bridge, the pub has entertained and refreshed patrons…

Pub

96-98 Pentonville Road, St Pancras, N1 9JB [map]

This music venue and lounge bar in Islington plays host to a mix of riotous rock 'n' roll upstairs, while offering some downbeat decadence and bluesy class downstairs. Expect music from the usual and not-so-usual suspects in a unique and quirky setting.

Gig Venue

26 Denmark Street, Charing Cross, WC2H 8NN [map]

The 12 Bar Club is renowned as being one of the most famous live music venues in London. They specialise in blues and country music as well as folk, pop, rock and acoustic sets.

Gig Venue

94 Parkway, Camden, NW1 7AN [map]

Camden's The Dublin Castle was a second home to Madness in the 70s. Since then the pub has helped launch Britpop and become a haven for London's indie kids. If you like your gigs, you will love The Dublin Castle, where you can see up-and-coming bands play seven nights a week.

Gig Venue

207 Upper Street, Islington, N1 1RL [map]

The Hope & Anchor in Islington was a leading venue in the punk movement of the 70s. The Stranglers recorded an album, Live at the Hope & Anchor, here. Two decades later, British band Keane made their debut. Recently re-launched, The Hope & Anchor continues to showcase exciting new bands.

Gig Venue

The Horse Hospital, Stables Market, Chalk Farm Road, NW1 8AH [map]

Proud Camden is a live music venue hosting the best eclectic music in North London. The venue is a 200-year-old Grade II Listed Horse Hospital in the Stables Market, Camden. Join the rock royalty at celebrity hang-out Proud Camden and enjoy amazing live gigs.

Jazz

47 Frith Street, Soho, W1D 4HT [map]

Since 1959 Ronnie Scott's Jazz Club has been a symbol of London and the home of British Jazz. It is one of the most respected Jazz Clubs in the world and some of the greatest names in music have performed on the historic stage – from Stan Getz, Buddy Rich and Donald Byrd to Ella Fitzgerald, Miles Davis and Art Blakey.

Pub

22 Blenheim Gardens, Clapham, SW2 5BZ [map]

The Windmill Pub serves a variety of beers, wines and spirits as well as traditional pub grub. They also have a big screen TV showing Sky Sports.

Club

21 Notting Hill Gate, Notting Hill, W11 3JQ [map]

Pub

259 Upper Street, Islington, N1 1RU [map]

Buffalo Bars has a dark, moody and romantic atmosphere with plenty of sofas for your comfort. They serve a wide variety of wines, beers and spirits with live music or DJs playing weekly.

Gig Venue

2 Haverstock Hill, Belsize Park, NW3 2BL [map]

The Enterprise, situated across from the Chalk Farm tube station, is one of the best loved pubs in Camden. By day, it's a relaxed pub serving quality beers and delicious pub food. By night, it's a popular gig venue and bar with a vibrant atmosphere.

Bar

30 Inverness Street, Primrose Hill, NW1 7HJ [map]

The Good Mixer serves traditional pub food, snacks and real ales. They have pool tables, quiz and fruit machines. Seating on the pavement area is provided, weather permitting.

Jazz

9 Greek Street, Soho, W1D 4DQ [map]

Jazz After Dark is a restaurant, cocktail bar and late-night jazz club set in the very heart of Soho.