London Dance Venues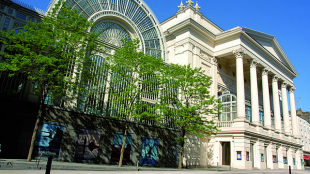 London dance venues range from the famous Royal Opera House and Sadler's Wells to small, specialist dance centres such as The Place and Laban Theatre.
You'll find a huge range of dance shows on offer, from classic Royal Ballet performances to new work by up-and-coming choreographers. Here are some of the best places to watch dance in London.
Ballet

From to

London Coliseum WC2N 4ES [map]

Theatre

Covent Garden, WC2E 9DD [map]

This world-famous theatre is open to daytime visitors as well as ticket holders during performances. Pre-booked guided tours are available daily.

Theatre

Kensington Gore, London, SW7 2AP [map]

Book your tickets for concerts and special events at the world famous music venue The Royal Albert Hall.

Arts Centre

Silk Street, EC2Y 8DS [map]

The Barbican in London is Europe's largest arts centre all under one roof. The Barbican is also a base for the London Symphony Orchestra.

Theatre

Sadler's Wells, Rosebery Avenue, EC1R 4TN [map]

Sadler's Wells is the world's No.1 venue dedicated to bringing the very best international and UK dance to London audiences.

Arts Centre

Belvedere Road, SE1 8XX [map]

Southbank Centre is the largest single-run arts centre in the world and includes Royal Festival Hall, Hayward Gallery, Queen Elizabeth Hall, Purcell Room, Poetry Library and 21 acres of creative arts.

Arts Centre

5 Nether Street, Tally Ho Corner, N12 0GA [map]

artsdepot is North London's newest arts centre at Tally Ho Corner, North Finchley.

Entertainment Venue

Creekside, Deptford, SE8 3DZ [map]

Our Library offers probably the largest and most varied open access research collection on dance and related subjects in the UK, covering many aspects of dance in a variety of formats and languages.

Theatre

17 Dukes Road, WC1H 9PY [map]

Located in the heart of London, The Place is the UK's premier centre for contemporary dance.

Theatre

Royal Hill, Greenwich, SE10 8RT [map]

Theatre

Peacock Theatre, Kingsway (entrance on Portugal Street), WC2A 2HT [map]

This venue is air cooled.

Entertainment Venue

Theatre Square, Stratford, E15 1BX [map]

Stratford Circus is a contemporary performing arts venue in the 'Stratford Cultural Quarter' in East London.