Stay at The Nadler Kensington and save 15%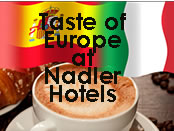 Valid from 1 April 2014 to 31 July 2014
For a limited time only Nadler Hotels are giving their guests the opportunity to take a small bite of Europe when visiting The Nadler Kensington. They have picked five countries and their favourite breakfast to help start your day. You will not only get your chosen breakfast included in the price but you will also save an additional 15% off the rate when booking using the special promotion code.
You will be able to take advantage of the many sightseeing opportunities on the doorstep and the very best of the neighbourhood restaurants and theatres.
Nadler Hotels will make sure you get a little tast of Europe from the comfort of your room.