Enjoy 20% off brunch with UNLIMITED PROSECCO at The Montagu every Saturday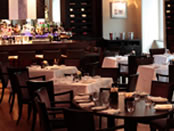 Valid from 1 February 2014 to 31 March 2014
The Hyatt Regency's Saturday Brunch experience is the perfect place to take a well-earned break and revive from your shopping and sightseeing in the bustling local area.
Guests can enjoy 'all you can eat' New York and Italian savoury and sweet dishes including risotto, spaghetti and meatballs, caesar and cobb salad, salami and formaggio and gourmet pizzas, Tiramisu, New York Cheesecake and Torta di Cioccolata, to name just a few!
Enjoy this brunch with unlimited Prosecco, white and red Italian wines, Aperol Spritz, American lagers and bellini's all whilst listening to the live music.
 
To tempt you even more, please click here to view the full New York Italian Style Saturday Brunch Menu.
The New York Italian Style Brunch will be served in The Montagu every Saturday from 12.30 PM to 3:00 PM at  £49 per person.  
Children from 0 to 12 years receive a 50% discount, including VAT. An optional 12.5% service charge will be added to every bill.