Enjoy two tickets for just £20 to The Edible Garden Show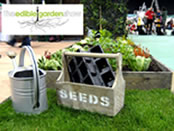 Valid from 14 January 2014 to 24 March 2014
The Edible Garden Show will be staged at Alexandra Palace, London, from 28-30 March, 2014. Show organisers are offering VisitLondon readers a fantastic two for £20 deal for tickets bought in advance.  
Bigger and better than ever before, the three-day event is a fertile mix of celebrity speakers, interactive advice sessions, cookery demonstrations, innovative products and a fabulous range of exhibitors selling everything you need for a slice of the 'good life'.
Perfectly timed for the beginning of the growing season, the show is buzzing with tips on keeping bees, raising chickens, brewing beer, saving energy, mouth-watering baking and dishing up delicious meals using home-grown ingredients. It's a must-see show for anyone interested in self-sufficiency and packed with masses of trendy and chic ideas for conjuring yummy, healthy food from plot to plate.