Take part in The Art of Chocolate Making at St James's Hotel and Club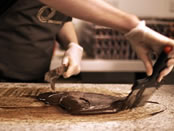 Valid from 3 December 2013 to 21 June 2014
St James's Hotel and Club has partnered with Paul A. Young to introduce all chocoholics or budding 'choccie' enthusiasts to the art of luxury chocolate making.
This fun and interactive masterclass will be led by one of Paul's Head Chocolatiers, in the beautiful surroundings of the Mayfair Suite at the St. James's. Each 'student' will learn how to taste chocolate, and how to produce their very own impressively scrumptious truffles. And at the end of the class, get ready for a chocolate feast…
Michelin starred Executive Chef William Drabble has excelled himself with the creation of a three course chocolate themed menu with matching wines. This consists of wild mushrooms with ceps and chocolate sauce, followed by venison with bitter chocolate sauce and culminating with a truly mouth-watering dessert.
Finally, the hotel's expert Sommelier, Marco Feraldi, will serve a selection of chocolates handpicked by paul.a.young himself; each different flavour will have a matching wine and Marco will give advice and on the perennial problem of which wines to pair with chocolate.
So why not book the course and wow your friends and family next time they visit with your very own amazing chocolate and wine pairing knowledge!
The Art of Chocolate Making is priced at £99.00 per person and includes:
One hour hands on chocolate master class by paul.a.young Head Chocolatier
Introduction on chocolate and wine pairing, by the hotel's sommelier
Three course chocolate based lunch by William Drabble, with matching wines
Your self produced chocolate to take home 
The master classes start at 11.00am until approximately 2.00pm and they are all held on the following Saturdays:
18 January; 22 February; 22 March (Easter Themed); 2 April (Easter Themed); 24 May; 21 June
Signed copies of Paul.a.young's book will also be available for purchase.