Treat yourself to a Shopaholics Break with Lancaster London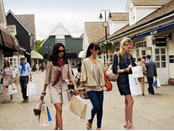 Valid from 1 September 2013 to 30 December 2013
The Lancaster London is ideally situated for serious shopping trips, with Oxford Street and Bond Street minutes away.  Harrods and Harvey Nichols are just a 15-minute stroll through Hyde Park. Westfield London is a couple of stops away on the Central Line Tube. 
As with all good trips you will receive a VIP check-in, followed by a welcome cocktail at the Island Grill bar, and accommodation in a twin or double room.  You will also receive a £50 shopping voucher per room, a chauffeur-driven car to either Selfridges or Westfield-London, and a Buffet Breakfast in the lovely Park room, with the option of extending your stay with a 25% discount off your second night.
Don't forget to select from the options on the bookings page to customise your booking!
Rates start from £223
Join us this September for Shop London, a celebration of London's incredible and varied retail offering