Win a unique Tall Ship experience in Greenwich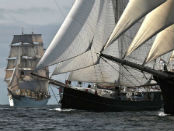 Thames Tall Ship evening cruise to watch the Festival fireworks on the river
Guided tour at the Old Royal Naval College in UNESCO Maritime Greenwich
Overnight stay on a Tall Ship on the Thames
All tickets are for Saturday 6 September only
Enter Now
A once-in-a-lifetime experience at the dazzling Royal Greenwich Tall Ships Festival 2014 a 5-day extravaganza featuring the largest fleet of Tall Ships to visit London for 25 years.
Around a million people are expected to visit the Festival from 5-9 September, and this prize will place you at the heart of all the action on Saturday 6 September.
Enjoy the buzz of the Festival during the daytime, including the international Crew Parade through Greenwich, explore the markets, live music and entertainment at the free Festival Villages and wander through the area's rich royal and maritime history.
The winner will also get the opportunity to visit the historic Old Royal Naval College, with a pair of free tickets for a guided tour 'Who Put the Royal in Greenwich' on Saturday 6 June at 2pm. The tour will take an irreverent look at the famous royals who have visited Sir Christopher Wren's stunning masterpiece.
In the evening you will board one of the majestic Tall Ships on the Thames for a special river cruise from the Royal Arsenal in Woolwich. Passing famous landmarks on the way, you will have a prime view of a spectacular fireworks display as the grand finale to your evening. What a way to experience fireworks! Amid jostling masts of stunning tall ships and the backdrop of historic Greenwich, the scene will inspire and evoke Greenwich's maritime history in a rare and special moment.
And finally, just a quick hop to the Greenwich Peninsula to board the beautiful four-masted schooner, Santa Maria Manuela - your hotel for the night. You could enjoy a drink at the bar or on deck and watch the Thames settle down for the night, with The O2 and Canary Wharf glittering around you before turning into your comfortable berths below deck.
The friendly crew will serve your breakfast on Sunday morning before you depart the ship and head back into the Festival to watch the Heritage Rowing Boat Race on the river, visit the shops and museums or just soak up the thrilling Festival atmosphere.